Evaluate
Weigh the pros and cons of technologies, products and projects you are considering.
Emerging data center workloads drive new infrastructure demands
Enterprises increasingly turn to AI, IoT and big data to boost efficiency and glean better insights into their business. Before implementation, though, they need to ensure their data center infrastructures are ready.
Introduction
Emerging data center workloads -- ranging from big data to machine learning -- offer a number of benefits to the enterprise. It's important to understand, however, how to properly evolve or, in some cases, create an infrastructure that can handle those workloads' demands.
The internet of things (IoT), big data, artificial intelligence (AI), machine learning and other data-intensive workloads can accentuate the limitations of the storage, network and compute capabilities of any infrastructure. Before you implement them, understand potential challenges and how to avoid them. Monitor possible areas of concern, prepare your architecture and take these steps to more seamlessly deploy these emerging data center workloads in your organization.
1

Make room for IoT workloads

-
Evolve storage, networking architectures for IoT
As IoT adoption continues to rise, data centers must accommodate the massive amounts of data that IoT devices collect. Be aware of issues with networking, storage and overall data center architecture, and take a full dive into hardware and software requirements to properly implement IoT workloads. A complete architecture overhaul isn't necessarily the ultimate goal, but it's also important to investigate possible security and compliance concerns with this move. Evaluate options from multiple vendors to develop an infrastructure that can handle the influx of information that comes with IoT.
2

Big data, big changes

-
Ease into a big data implementation
Big data implementations enable enterprises to gain new insights into customer demands, potential security threats and more. However, don't make an immediate jump into the big data realm. First, take inventory of your current resources, including processing power and memory, to determine if they're capable of accommodating these workloads. Provision resources based on your needs, and add elements into your architecture in installments. Conduct additional research to ensure that when big data workload surges occur, your enterprise can handle the added stress without bottlenecks or shutdowns.

Download this free guide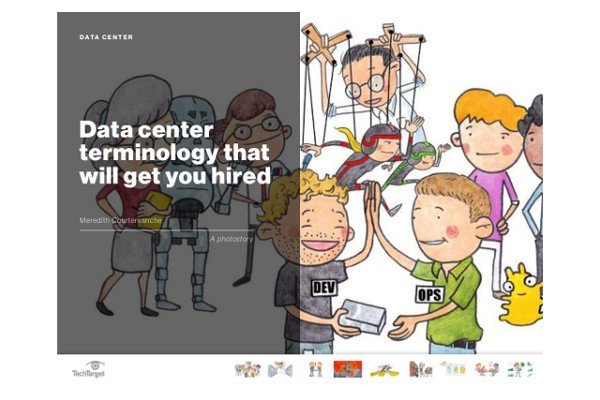 Download: Data center terminology that will get you hired
When it comes to data center job interviews, rattling off common DevOps and automation terms won't get you far – you must establish your knowledge of IT infrastructure scalability and resiliency, as well as culture and business to really impress. Download this COMPLIMENTARY Data Center Terminology guide to learn how to ace your next interview.
3

AI workloads emerge

-
Data center teams prepare for AI, machine learning
Data center workloads for AI and machine learning continue to emerge, as enterprises recognize the value they bring. But before deployment, data center teams must evaluate their existing architectures to ensure these compute-intensive workloads don't become overwhelming. For example, more advanced machine learning algorithms, as well as deep learning frameworks, can present scalability challenges. To address them, IT teams need to evolve their storage and networking architectures and also prioritize automation.
Feature
AI applications in the data center present major challenges for storage, compute and networking. On the compute side, a CPU-based system might not be sufficient, so teams should evaluate their options for GPUs as well. Continue Reading
Opinion
IBM added machine learning features to z/OS, enabling users to perform analytics directly on the mainframe. But before you dive in, prepare for potential cost and data management challenges, such as mass ingestions of data that disrupt your transaction processing system. Continue Reading
Opinion
To ensure their infrastructure can support future data center workloads related to AI, teams should pay close attention to technologies like Spark and GPUs and learn how to evolve their data workflow management practices. Continue Reading
4

Glossary

-
Brush up on these important IT terms
Emerging data center workloads, such as IoT and AI, constantly evolve. Stay up to date with this list of important terms to know.