 BACKGROUND IMAGE: iSTOCK/GETTY IMAGES
Cutting edge: IT's guide to edge data centers
Editor's note
Some say edge computing is the next frontier of compute. The ability to quickly and securely process the massive amount of data spurred by the internet of things -- as well as reach hubs of end users and workers that are distributed globally -- is an attractive draw for many organizations looking to extend opportunities beyond their data center's walls. The benefits of moving to edge data centers are extensive, from reduced costs and bandwidth to survivability.
But the problem with new IT trends is just that -- they're new. Users and experts alike don't know what the future of edge computing will hold. In this guide, we'll explore the advantages and pitfalls associated with edge data centers, as well as data centers supporting remote and branch offices (ROBOs).
1

Storage, backup for remote and branch offices

IT teams need to protect and back up enterprise data, regardless of whether it resides within a centralized data center's walls. But when it comes to ROBO backup and storage, there is no universal set of rules. Instead, administrators must assess each individual situation and decide from there. Learn about the challenges you may face while storing and backing up ROBO data, and how to solve them.
2

Explore the role of edge computing in IoT

As the internet of things (IoT) expands, massive amounts of data require faster processing and better security -- and edge data centers become more appealing. Edge data centers allow end users to get closer to the data, improving speed and performance. But not all experts are on board with edge and fog computing -- find out why.

Download this free guide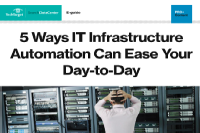 Free Guide: 5 Ways IT Infrastructure Automation Can Ease Your Day-to-Day
For IT admins, the maintenance of networking, storage and compute is an overwhelming task -- especially as data center technology becomes more complex. Fortunately, automation can help ease the burden of tedious tasks, but how exactly? Our expert explains 5 ways IT infrastructure automation lessens the load for data center teams.
3

Networking considerations for the edge

Your wide area network (WAN) should support the large amount of data being transferred between your ROBO and traditional data centers. There are a number of networking options to consider for ROBO and edge data centers, from virtual WANs (vWANS) that can increase performance to metro networks that are changing with the market. Explore the benefits of virtualization -- including faster provisioning and greater agility -- to get the most out of edge technology.
4

Essential definitions for the edge

Before migrating to the edge, it's important to know the terminology. Get to know these essential definitions.