Words to go: Data center design standards bodies
Need a handy reference sheet of the various data center standards organizations? Keep this list by your desk as a reference.
Several organizations produce data center design standards, best practices and guidelines. This glossary lets you keep track of which body produces which standards, and what each acronym means.
Print or bookmark this page for a quick reference of the organizations and associated websites and standards that data center designers and operators need to know.
ASHRAE: The American Society of Heating, Refrigerating and Air-Conditioning Engineers produces data center standards and recommendations for heating, ventilation and air conditioning installations. The technical committee develops standards for data centers' design, operations, maintenance and energy efficiency. Data center designers should consult all technical documents from ASHRAE TC 9.9: Mission Critical Facilities, Technology Spaces and Electronic Equipment. www.ashrae.org.
BICSI: The Building Industry Consulting Service International Inc. is a global association that covers cabling design and installation. ANSI/BICSI 002-2014, Data Center Design and Implementation Best Practices, covers electrical, mechanical and telecommunications structure in a data center, with comprehensive considerations from fire protection to data center infrastructure management. www.bicsi.org.
BREEAM: The BRE Environmental Assessment Method (BREEAM) is an environmental standard for buildings in the U.K. and nearby countries, covering design, construction and operation. The code is part of a framework for sustainable buildings that takes into account economic and social factors as well as environmental. It is managed by BRE Global, a building science center focused on research and certification. http://www.breeam.org/
GB 50174-2008 (China): The National Standard Code for Design of Electronic Information System Room in China includes three tiers, from most stringent to least: A, B and C. These tiers rank the design and renovation of IT and communications equipment rooms. The China Electronics Engineering Design Institute drafted GB 50174-2008.
The Green Grid Association: The Green Grid Association is well-known for its PUE metric, defined as power usage effectiveness or efficiency. PUE measures how well data centers use power by a ratio of total building power divided by power used by the IT equipment alone. The closer to 1 this ratio comes, the more efficiently a data center is consuming power. Green Grid also publishes metrics for water (WUE) and carbon (CUE) usage effectiveness based on the same concept. www.thegreengrid.org
IDCA: The International Data Center Authority is primarily known as a training institute, but also publishes a holistic data center design and operations ranking system: the Infinity Paradigm. Rankings cover seven layers of data centers, from location and facility through data infrastructure and applications. www.idc-a.org
IEEE: The Institute of Electrical and Electronics Engineers provides more than 1,300 standards and projects for various technological fields. Data center designers and operators rely on the Ethernet network cabling standard IEEE 802.3ba, as well as IEEE 802 standards, for local area networks such as IEEE 802.11 wireless LAN specifications. www.ieee.org
ISO: The International Organization for Standardization is an overarching international conglomeration of standards bodies. The ISO releases a wide spectrum of data center standards, several of which apply to facilities. ISO 9001 measures companies' quality control capabilities. ISO 27001 certifies an operation's security best practices, regarding physical and data security as well as business protection and continuity efforts. Other ISO standards that data center designers may require include environmental practices, such as ISO 14001 and ISO 50001. www.iso.org
JDCC: The Japan Data Center Council, a coalition of industry, academia, and government in Japan, covers building, security, electrical and cooling equipment, communications equipment and maintenance -- including seismic considerations -- in its Outline of Facility Standard matrix. www.jdcc.or.jp
LEED: The Leadership in Energy and Environmental Design is an international certification for environmentally conscious buildings and operations managed by the U.S. Green Building Council. Five rating systems -- building design, operations, neighborhood development and other areas -- award a LEED level -- certified, silver, gold or platinum -- based on amassed credits. The organization provides a data-center-specific project checklist, as the LEED standard includes adaptations for the unique requirements of data centers. www.usgbc.org
NFPA: The National Fire Protection Association publishes codes and standards to minimize and avoid damage from hazards, such as fire. No matter how virtualized or cloudified your IT infrastructure, fire regulations still govern your workloads. NFPA 75 and 76 standards dictate how data centers contain cold/cool and hot aisles with obstructions like curtains or walls. NFPA 70 requires an emergency power off button for the data center to protect emergency respondents. www.nfpa.org
NIST: The National Institute of Standards and Technology oversees measurements in the U.S. NIST's mission includes research on nanotechnology for electronics, building integrity and diverse other industries. For data centers, NIST offers recommendations on authorization and access. Refer to special publications 800-53, Recommended Security Controls for Federal Information Systems, and SP 800-63, Electronic Authentication Guideline. www.nist.gov
OCP: The Open Compute Project is known for its server and network design ideas. But OCP, started by Internet giant Facebook to promote open source in hardware, also branches into data center design. OCP's Open Rack and optical interconnect projects call for 21 inch rack slots and intra-rack photonic connections. OCP's data center design optimizes thermal efficiency with 277 Volts AC power and tailored electrical and mechanical components. www.opencompute.org
OIX: The Open IX Association focuses on Internet peering and interconnect performance from data centers and network operators, along with the content creators, distribution networks and consumers. It publishes technical requirements for Internet exchange points and data centers that support them. The requirements cover designed resiliency and safety of the data center, as well as connectivity and congestion management. www.open-ix.org
Telcordia: Telcordia is part of Ericsson, a communications technology company. The Telcordia GR-3160 Generic Requirements for Telecommunications Data Center Equipment and Spaces particularly relates to telecommunications carriers, but the best practices for network reliability and organizational simplicity can benefit any data center that delivers applications to end users or host applications for third-party operators. The standard deals with environmental protection and testing for hazards, ranging from earthquakes to lightning surges. www.ericsson.com
TIA: The Telecommunications Industry Association produces communications standards that target reliability and interoperability. The group's primary data center standard, ANSI/TIA-942-A, covers network architecture and access security, facility design and location, backups and redundancy, power management and more. TIA certifies data centers to ranking levels on TIA-942, based on redundancy in the cabling system. www.tiaonline.org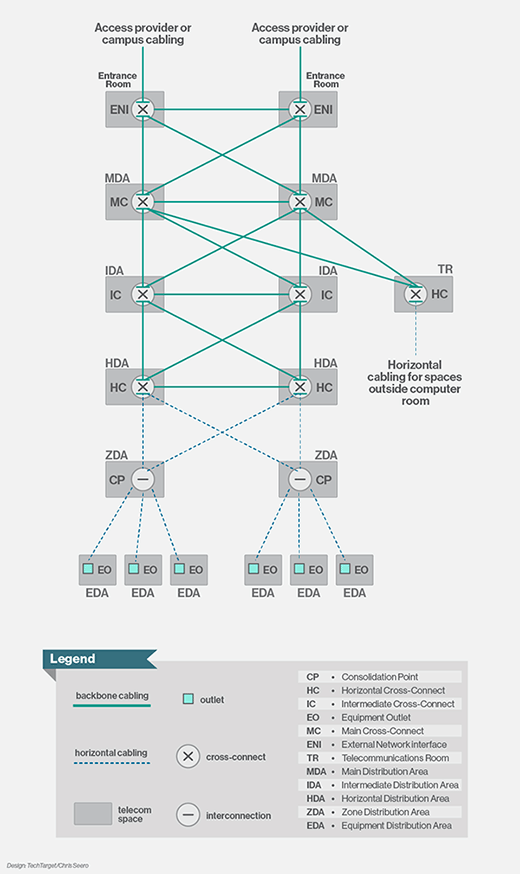 The Uptime Institute: The Uptime Institute certifies data center designs, builds and operations on a basis of reliable and redundant operating capability to one of four tier levels. Data center designers can certify plans; constructed facilities earn tier certification after an audit; operating facilities can prove fault tolerance and sustainable practices. Existing facilities, which cannot be designed to meet tier level certifications, can still obtain the Management Operations Stamp of Approval from Uptime. www.uptimeinstitute.com
Did we miss one? Send your suggestion to the editors.
Dig Deeper on SDN and other network strategies