 BACKGROUND IMAGE: iSTOCK/GETTY IMAGES
Evaluate
Weigh the pros and cons of technologies, products and projects you are considering.
Winner: Best hybrid flash storage product
The best hybrid flash storage array has been determined by Modern Infrastructure readers in the technology Impact Awards.
Best hybrid flash storage product winner: Nimble Storage CS-Series Array
Finding a single storage solution that can provide good performance and capacity for a wide variety of workloads is easier said than done, but Modern Infrastructure readers report that iSCSI Nimble Storage CS-Series arrays have been a great addition to their data centers, providing the right levels of performance and capacity and extensive software features, all at a reasonable cost.
Like all hybrid storage systems, the CS-Series relies on a solid-state disk tier to provide ample performance for demanding, IOPS-intensive applications, coupled with lower-cost spinning disks for scale-out capacity. However, readers and experts report that Nimble's proprietary CASL file system takes things one step further, especially with its Write-Optimized Data Layout feature.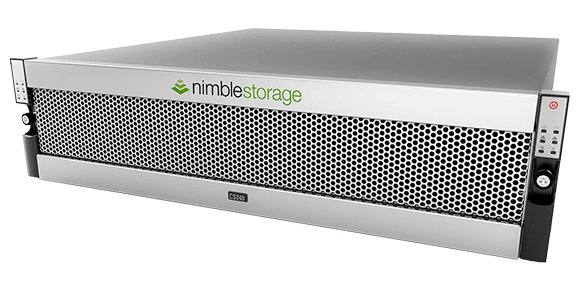 "What's really interesting about Nimble is that they're mucking around with how writes happen," explained one expert judge. Rather than commit writes directly to disk, Nimble "hangs on to them for a while," and when those reach critical mass, "coalesces writes into one big serial write," thus taking advantage of spinning disk's natural propensity for streaming sequential data. Thanks to this, Nimble claims it can offer write operations that are as much as 100 times faster than traditional disk-based storage.
Honorable mention hybrid flash storage product: Tegile Zebi
If you need a hybrid flash storage array that can handle NAS or SAN, iSCSI or Fibre Channel, then look no further than the Tegile Zebi array, whose multi-protocol support sets it apart from the iSCSI-only Nimble CS-Series. "It supports more protocols at a much more affordable price point," one reader said. Readers also commended the Zebi for its use of enterprise-class components such as SAS rather than the lower-cost SATA disk drives, plus enterprise versus consumer grade flash. Not surprisingly, readers report that "the performance rocks!"
Nimble also optimizes capacity with features such as always-on inline compression, thin provisioning, space-efficient snapshots and zero-copy clones, and promises non-disruptive capacity and performance upgrades. A fully-loaded system can scale to 249TB of effective capacity. However, the software feature that readers repeatedly called out was the InfoSight portal.
"[The] InfoSight portal is an extremely powerful tool," wrote one reader; it presents a single window through which administrators can view alerts and triggers, reports, analyze performance and perform capacity planning.
Indeed, it's the maturity of Nimble's user interface and reporting tools that really set it apart from other hybrid flash players. "It's a very mature product," said another judge. While other vendors focus on tight platform integration, or provide deeper performance metrics, it's Nimble's balanced approach to performance, capacity and manageability that make it such a strong choice for Modern Infrastructure readers.
Dig Deeper on Enterprise data storage strategies