The resiliency of mainframe systems
Traditional mainframe systems continue to outperform, and are more secure, than even the most bleeding-edge x86 virtualization software.
Mainframe resiliency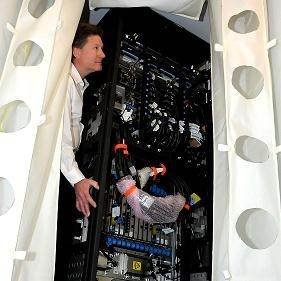 IBM engineer Don Gunvalsen, based in Poughkeepsie, N.Y., loads the new IBM zEnterprise System mainframe into a test chamber in the company's Poughkeepsie facility that subjects the computer to extreme variations in temperatures. Image courtesy of Feature Photo Service for IBM.
Mainframes also boast more advanced capabilities in application availability, resiliency and disaster recovery than even the most bleeding-edge x86 virtualization software, according to Joe Clabby, president at Clabby Analytics. "What virtualization does offer is the ability to fail over to a pool -- [you get] better failover and reliability [for x86 systems] that way, but it's nothing like a mainframe," he said. "If you have business-critical applications and want the best architecture with the best hardware and software to ensure they keep running, you'd choose mainframe over x86 at this particular point in time."
Users also point to system maintenance and security as advantages in the mainframe's column, and from a security standpoint, viruses and worms that work through stack overflow conditions in distributed systems simply don't work on the mainframe.
Dig Deeper on IBM system z and mainframe systems