The IT Career Builder's Toolkit -- Chapter 11
What skills do information technology professionals need to develop their careers? How does one get an IT job in the first place? The IT Career Builder's Toolkit by IT consultant Matt Moran offers advice. Also, check out a sample chapter compliments of Cisco Press and SearchDataCenter.com.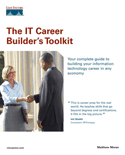 TITLE: The IT Career Builder's Toolkit
CHAPTER DOWNLOAD: Chapter 11 - Breaking Into IT*
AUTHOR: Mattew Moran
PUBLISHER: Cisco Press
COPYRIGHT: 2005
ISBN-10: 1-58713-156-0



---
The IT Career Builder's Toolkit features market-focused skills and proven methods you can use to jump-start and advance your career. Among other skills, readers will learn how to present the value of their technical skills, gain meaningful professional exposure and highlight on-the-job skills. In addition to covering IT career basics, i.e. resumes, cover letters and interviews, this book also provides insight from IT career development expert, Matt Moran.

The IT Career Builder's Toolkit comes with a companion CD-ROM, which contains a number of career management tools: resume and cover letter templates, forms to track important contacts and self-assessment tools, as well as a number of tools designed for starting a career in consulting.
---
*Reproduced from the book The IT Career Builders Toolkit. Copyright 2005, Cisco Systems, Inc. Reproduced by permission of Pearson Education, Inc., 800 East 96th Street, Indianapolis, IN 46240.
Dig Deeper on Data Center jobs and staffing and professional development