zhu difeng - Fotolia
Simpler management motivates Ethernet SAN investments
Blending LAN and SAN networks cuts a lot of management headaches -- and miles of cable -- out of the data center.
The majority of data center organizations considering Ethernet-based storage networking want easier management from combined data center and storage networks.
IT professionals look to Ethernet-based storage area networks (SANs) to reduce complications from a dedicated storage network foremost; factors such as storage on demand, storage segmentation and non-blocked infrastructure were secondary reasons, according to IT professionals who responded to the TechTarget 2015 Network Infrastructure Survey.*They said they'd mainly consider multiple storage protocols over Ethernet and Fibre Channel over Ethernet (FCoE), 76% and 44% respectively. A minority also would look at InfiniBand over Ethernet (14%).
Ethernet-based storage protocols, such as FCoE, Internet Small Computer System Interface (iSCSI) and network-attached storage, are growing at a significantly faster rate than fibre channel (FC) and direct-attached storage protocols in data centers, said Brad Casemore, research director for data center networks at IDC, an IT analyst firm in Framingham, Mass.
"[With a traditional central switching architecture,] we had to be selective about which hosts connected to the SAN because of the complexity of the cabling," said Derek Masseth, deputy CIO and CTO for the University of Arizona (UA), which operates two peered production data centers as well as a high-performance computing data center.
UA undertook a $100 million project to replace administrative systems, and its data center and network teams moved to an Ethernet SAN with FCoE based on Cisco adapters for converged local area network (LAN) and SAN.
FCoE retains the lossless performance of FC while converging data center networking strategies to Ethernet. Critics point to vendor lock-in as a major concern with FCoE, suggesting more interoperability with a protocol such as iSCSI. But for UA, vendor lock-in wasn't a concern, because Cisco was already a primary partner.
With server counts increasing dramatically, UA had to get more distributed and move to top-of-rack (ToR) switching.
"FCoE presented itself. To blend Ethernet and Fibre Channel from the central [switch] then crack it open [at the rack] intuitively made sense," Masseth said.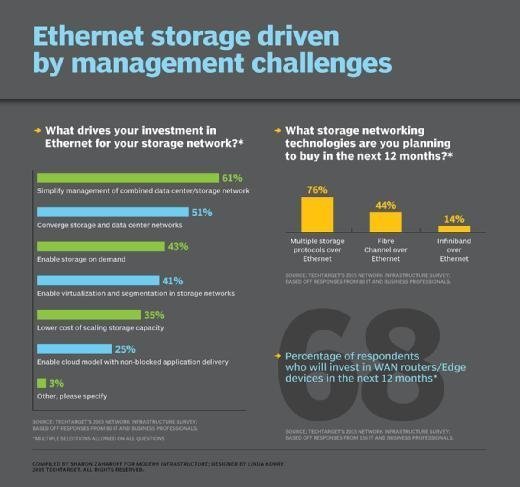 The immediate payoff of scraping distinct networks and installing FCoE was to drive down complexity, Masseth said, and "truckloads of cable left the data center." But UA saw longer-term payoff from the network convergence: Everyone re-focused from their "tribes" to the data center as a whole.
"It encouraged the SAN and Ethernet networking teams to work more closely together and closely with the systems team," Masseth said.
Before, the FC guys thought the Ethernet team didn't understand lossless, or the importance of uptime. Now, Masseth said, whenever UA has an outage, incident or complex build to tackle, fingers aren't pointing at the other team. "They roll up their sleeves and find and fix the problems."
Ethernet-based storage protocols offer attractive cost profiles through reuse of existing network infrastructure and management expertise, said IDC's Casemore. Lower cost when scaling out storage infrastructure was important to 35% of survey respondents when considering Ethernet SAN options. Masseth found that FCoE did reduce costs for UA, but this might not be the case for other builds, he warned.
UA's project was a greenfield network deployment because of the administrative systems project. If the data center already had FC networking cards and servers in place, he said, that could make an Ethernet SAN project expensive.
Masseth considered server costs, management costs for both networks, and the capital of buying both LAN and SAN switches versus a Cisco converged network adaptor from ToR to the servers when comparing converged with distinct networks.
Regardless of the growth in Ethernet SANs, FC remains dominant over other options for enterprise storage, according to Casemore. Heavily virtualized data centers typically feature direct-attached storage, followed closely by FC.
The data center-based storage protocol is only one aspect to consider if your enterprise runs public cloud-based workloads or plans to in the near future. Cloud-based storage alleviates demand for storage media and networking in the data center, and has "repercussions throughout data center networking, not just in storage networking," Casemore said.
*Editor's note: The TechTarget 2105 Network Infrastructure Survey is a snapshot of responses to an ongoing survey of IT professionals. Respondents per question are noted in the graphic. Survey respondents demonstrate an interest in purchasing the technology described.
Next Steps
Don't write off FC storage
Flash storage users choose FC
Top products for enterprise SANs