zhu difeng - Fotolia
Reasons to upgrade a data center network architecture
The TechTarget Networking Survey reveals which motivating factors cause data centers to upgrade their networks.
The total number of network-connected devices under management is increasing significantly, which creates more data to store and process. So what does this mean for your data center network architecture?
The TechTarget Networking Survey asked IT pros why they were upgrading their data center network. Overall, 44% of respondents said the upgrade is in response to increased applications and data. New information is likely due in part to big data initiatives. In the TechTarget 2015 IT Priorities Survey, 30% of respondents said they planned to implement big data projects in the coming year. But with this upsurge of information, storage and networking concerns are likely to arise.
A majority of respondents take to upgrades to handle the amount of data coming in. While only 20% upgrade to move toward converged storage and networking resources, it is likely that a large portion of those who upgrade their data center network architecture to accommodate more data do so with storage in mind.
"People attach an increasing amount of storage via the data network -- Ethernet -- as opposed to traditional fiber channel storage area networks," said John Burke, CIO and principal research analyst at Nemertes Research in Mokena, Ill. Data center managers look for switches that handle low latency and zero-loss Ethernet loads.
Enterprises have the option to store big data in the cloud. Significant percentages of the TechTarget Networking Survey respondents said the data center network needs an upgrade to support private (26%) or hybrid (21%) cloud. cloud storage offers improved scalability and agility that traditional in-house storage deployments can't match. In the future, more enterprises might need a big data network to stream information to cloud-hosted storage.
Only 15% of respondents in the TechTarget Networking Survey intend to upgrade to implement network programmability or software-defined networking (SDN). Of those IT pros, 44% said they will consider purchasing from an SDN vendor and 41% will evaluate a traditional network hardware vendor that offers an SDN product. Despite major vendors making a push for SDN, a slightly higher percentage of respondents -- 46% -- don't plan to consider an SDN vendor at all, and will look to vendors with technology from a third party. Respondents could choose more than one option, implying most are willing to entertain traditional as well as SDN-specific vendors for this data center network architecture change.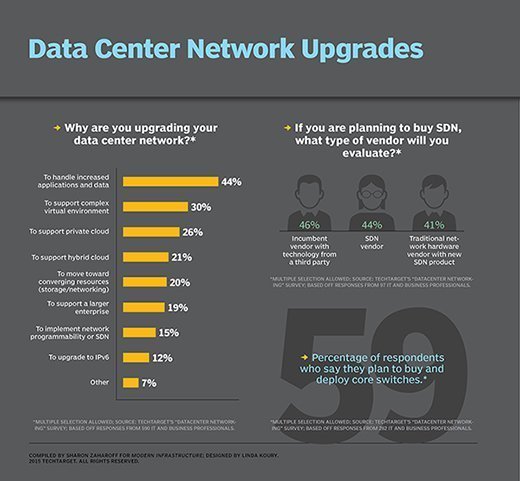 Their choice will likely come down to price and vendors' technological offerings, but also existing relationships.
"People are willing to look at their traditional network vendors now doing SDN because … a relationship has already been established and a trust level found," Burke said. Purchasing SDN from a familiar vendor eliminates the fear of a new company being acquired or disappearing.
Burke added that those looking to new SDN vendors are not concerned with protecting existing relationships or trying to make SDN fit into a current vendor's marketing or sales strategies.
"[New vendors] offer a way to make a dramatic change and to shift rapidly to a network driven with and by orchestration tools and automation," he said.
Sharon Zaharoff is the assistant site editor for SearchDataCenter.com. You can reach her on Twitter at @DataCenterTT.
Dig Deeper on SDN and other network strategies