Share this item with your network:
Top cloud and data center technologies win Impact Awards

WavebreakmediaMicro - Fotolia
Update your data backup policy with new options
The server backup market first evolved to protect VMs, but now it's undergoing another transformation. Find out how it's evolved and what you need to know for the future.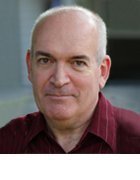 By
Orthodoxies come and go with speed and regularity in IT. That's certainly true with what once seemed a cut-and-dried server backup market. Driven by changing business demands and new technologies, organizations are rethinking the traditional data backup policy.
For instance, recovery is generally becoming more of a focus than backup alone. The cloud has evolved into both a backup location and a fresh anxiety since it is also another location needing protection. And, since most companies are neither wholly cloud-based nor wholly on premises, that spells complexity. As a result, there's now a whole glossary of options, including hybrid appliances for disaster recovery as a service (DRaaS) and other kinds of cloud-based backup.
On the front lines of that complexity is Matthew Chesterton, CEO of OffsiteDataSync, an infrastructure-as-a-service and DRaaS cloud service provider based in Rochester, N.Y. His company is growing by leaps and bounds because "technology and business needs have [been] met thanks to the availability of bandwidth that lets people easily push whole servers off site," he said. Although customers come to his company for simplicity and peace of mind, as he lists off the different services, technologies and vendors behind his offerings, he is the first to admit it's a very complicated environment.
And it's something that has attracted both established and new vendors in droves. "This is a pretty saturated market in terms of technology and support," said Naveen Chhabra, an analyst at Forrester Research. However, this saturation may reflect real market needs. "Companies continue to face challenges as the level of virtualization increases in their firms," he said. Also, since firms don't prioritize updating their data backup policy and don't get the latest improvements and developments, they can fall behind, which further complicates the picture. Meanwhile, as the level of virtualization continues to grow, "they face a challenge in managing backup for virtualized environments," he adds.
Out with the tape, in with the cloud
While traditional disk-based backups and tape still account for the majority of backup platforms, cloud-based options are growing in popularity, according to TechTarget's 2016 Data Backup/Data Protection Survey. Just 13% of respondents said they use a cloud-based backup as a service option today. However, 14% said they planned to invest in such a service within 12 months.
That's just one aspect of the many complex challenges spurring new products, including an increasing number of vendors creating backup appliances with built-in integration to an off-site cloud. These options are particularly helpful for small- and medium-sized businesses, according to Chhabra, because "it is a single solution that can create a seamless backup." Typically, that means data is backed up to the local appliance and then the appliance backs it up to the vendor's cloud or public cloud. An appliance also helps clients develop local resilience should a few systems fail because those could be quickly recovered from the local appliance, he said.
Vendors targeting that part of the market include Acronis, ArcServe, Barracuda Networks and Quorum. Then there is a category of vendors that don't offer an appliance but instead build a conduit to back up your content directly to the cloud. "The destination can be public cloud vendors like [Amazon Web Services] or Azure, or it could be a service provider cloud like iland or Cirrity or one of the long lists of backup service providers," Chhabra said.
A changed landscape
Just a few years ago, most general-purpose backup products still struggled with the task of providing adequate VM backups and reliable recovery, said Jason Buffington, principal analyst at Enterprise Strategy Group in Milford, Mass. The server backup vendor market's support for VM backups lagged behind the IT industry's adoption of virtualization, leading many companies to seek out virtualization-specific backup tools.
However, the market has evolved considerably, he said. The majority of the virtualization-specific backup products, which were the early answer to the problem, have since been acquired and rolled into other general-purpose backup suites, Buffington said. As a result of this second evolution, many of these traditional general-purpose data protection and backup products now provide "more than adequate protection and recovery for VMs," not only due to their enhancements, but because of better engineering on the part of hypervisor vendors that enable better backup processes.
New options for a data recovery and backup plan
A third wave is underway as data protection vendors, many well-known from virtual data protection roles -- Veeam Software being the most prominent example -- now offer both physical backup and protection of cloud-based data, Buffington said. "They are coming at it from the other direction; they dominated VM recovery, and now they are offering the rest of the protection picture," he said.
To that point, OffsiteDataSync has, in fact, adopted Veeam as an important element in its infrastructure, Chesterton said. "Veeam helps us with backup and archiving and allows us to have recovery point objectives and recovery time objectives below 15 minutes," he added.
Greg Schulz, an analyst at StorageIO in Stillwater, Minn., said Veeam is clearly the most successful in a crop of hyper-converged and specialized appliance offerings, sometimes called purpose-built backup appliances (PBBAs). He said the other leading players are Commvault, Dell, Symantec and Veritas. Then there is Rubrik, which he says is unusual in that it can provide backup and archiving across both physical and virtual machines, operate as an appliance and in the cloud, and protect and integrate with Exchange, Oracle, SharePoint, SQL Server and other key functions.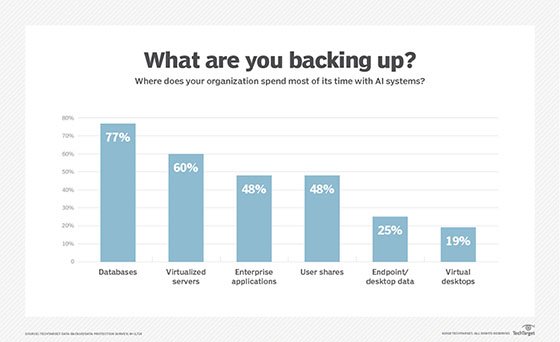 If the long list of server backup buzzwords and the equally long list of vendors all sounds daunting, Steven Hill, senior analyst for storage at Boston-based 451 Research, said the bright spot may be the increasing attention given to metadata. Yes, metadata. A structural problem for all efforts to manage, control and protect data has been that "it's just a big bucket" of data, with few distinguishing characteristics, he said. If it's ASCII, there is some chance you can search it and analyze it. Or if it is an image taken with a digital camera, it will have uniform, basic descriptive information -- but most other data is just data.
There are some domain-specific metadata systems in library services, geophysics and education that help with the task of finding information and managing it, Hill said. But beyond that, it's the Wild West. However, he noted, there are efforts to come up with more universal ways to build in metadata. Both Veritas and CommVault have done work in the area. And that may eventually provide better insight and control, regardless of the specific way in which server backup is conducted, he said.
Advice for today
For the time being, there are three things buyers should keep in mind as they consider their data backup policy, Buffington said.
1. "It has never been more true than today that it is really about recovery, not backup," he said. The differentiation between fair, good and great among the competing options tends to come down to two things, he said. One of those is the agility of recovery, which usually equates to how fast you can get VMs back up and running and how granular and flexible the recovery process can be.
For example, when you protect VMs, most products protect the whole VM, but you usually don't have to recoup the whole VM in a recovery scenario. In many cases, the missing data is just messages or files or a database. "That's why being able to do partial or granular restore is good," Buffington said. It is also about agility. "If I protect my VMware, could I restore to Hyper-V or to the cloud, or can I perhaps restore someplace else?" In other words, agility is about how flexible you can be when restoring the backup.
2. Then there's what he calls "savviness." There are a lot of data protection offerings that don't consider the dynamic nature of VMs as they are being provisioned, created and migrated among hosts or data centers, Buffington said. Those products may not provide as reliable a backup because they are following a moving target. "Having virtualization savviness -- the contextual awareness to understand that it isn't just big files but virtual machines that move -- is really important," he said.
Having virtualization savviness -- the contextual awareness to understand that it isn't just big files but virtual machines that move -- is really important.

Jason Buffingtonprincipal analyst at Enterprise Strategy Group
3. "It is also important to recognize that we don't live in an all-VMware world," Buffington said. A growing percentage of organizations are adopting Microsoft's Hyper-V as a complement to, if not a replacement for, VMware. That's important when wrestling with backup challenges because, in his view, "if your data solution doesn't provide equitable coverage for [VMware] and Hyper-V, you may be just as stuck as organizations were a decade ago that only knew how to protect their physical solutions," he said. Furthermore, while almost every organization is looking at how the cloud can be part of their data backup policy, you must recognize that you are still probably going to have some physical servers, he said.
"Yes, it is a confusing market," StorageIO's Schulz said. However, the range of choices available means the key is really understanding what you want and need, and "what you have an appetite for," he added.
Dig Deeper on Enterprise data storage strategies