How do I cool high-density racks?
High-density heat in the data center got your uptime low? Data center cooling expert Steve Madara offers advice for cooling your high-density racks.
Excessive heat can affect the performance, availability and lifespan of electronic equipment. Fortunately, data center cooling technology has kept pace with equipment densities and solutions are available today that not only provide the capacity to meet the today's requirements, but have the flexibility to adapt to the next generation of equipment.
The first step is to make sure you have optimized existing technologies. Specifically, there are three things you can do. If you haven't already, implement the "hot aisle/cold aisle" rack arrangement (see diagram).
This approach concentrates the hot air from the back of two rows of racks into a single aisle, increasing the temperature of the air being returned to the room air conditioning units and allowing them to operate more efficiently. Next, make sure any underfloor cabling is running under the hot aisle and is not blocking air being distributed through the floor tiles. Finally, use blanking panels to close any open spaces in racks to make sure hot air is not being recirculated through the rack.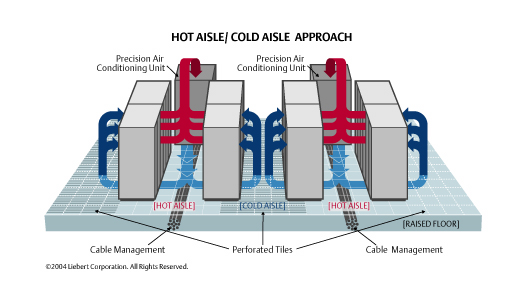 These changes should increase the cooling capacity of your existing systems, but, depending upon the density you need to support, may not prove to be a total solution. In this case, consider supplementing existing technology with an adaptive cooling architecture that can scale to meet the requirements of high-density systems.
Supplemental Cooling
Supplemental cooling solutions work in concert with traditional under-floor cooling systems for both existing and new data centers by providing effective cooling where under-floor systems leave off.
This approach delivers the reliability expected in a data center while providing a roadmap for dealing with continued increases in density through the use of scalable modules with virtually no space requirements and a low relative energy cost. Efficiency is enhanced by placing the supplemental units close to the heat source, either in the ceiling or above the rack. This configuration supplies necessary cold air to top sections of the rack to "supplement" the air delivered from under the floor.
An adaptive cooling architecture permits the flexibility to grow with constantly changing electronics systems. With proper planning and the use of next-generation equipment, the total costs of operating a data center can hold steady or even decrease as densities rise. More importantly, high density racks can receive the focused, high-efficiency cooling they need to achieve the performance and reliability you expect.
ABOUT THE AUTHOR: Steve Madera is vice president and general manager for environmental business at Liebert Corporation and a member of ASHRAE. Steve has more than 25 years of residential and commercial experience in the air industry.