Explore information technology budget plans for 2015
The TechTarget IT Priorities Survey asked how companies plan to spend 2015 IT budgets, and if IT teams expect more money allocated to technology this year.
Do you know where your IT budget is being spent in 2015?
The TechTarget 2015 IT Priorities Survey asked how IT organizations projected their 2015 budget in comparison to 2014. Overall, 61% of respondents will see their information technology budget grow this year. More than a quarter of this group, 27%, said they expect their IT budget to increase 5% to 10% over the last year. Only 9% of respondents forecast a decrease in budget, and 22% expect it to stay the same.
When asked which initiative their company will implement in 2015*, 40% of respondents said data center consolidation. IT organizations advocate for consolidation projects to optimize resources by hosting more workloads on fewer servers. Consolidation projects reduce capital spending and also supplement IT architecture optimization.
Since the workforce is becoming increasingly mobile, with help from bring your own device initiatives, 36% of respondents said part of their information technology budgets will go towards implementing more mobility this year. With mobility enhancements, business applications are more accessible with laptops, tablets and smartphones.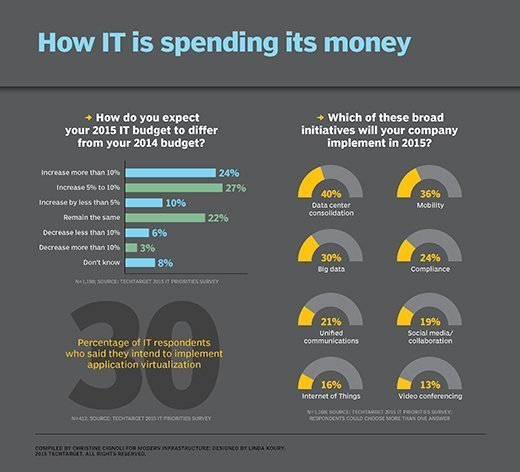 big data also got a nod with 30% of respondents planning to implement this hot data center trend in 2015; however, data storage didn't make the list as an area where IT organizations will invest. The onset of big data is collecting so much information that storage will be a concern for most data centers. There are new options for data storage, such as solid state drives, which have experienced a gradual price drop in the last year. This dip could fulfill the storage needs of big data projects without overrunning the budget.
Only 16% of the IT leaders surveyed said that their companies plan to implement the Internet of Things (IoT) in 2015. The installed base of IoT will be around 212 billion "things" by the end of 2020, according to projections from research firm IDC. However, this IT budget survey shows that companies are waiting to implement new strategies around this trend.
Editor's note: The TechTarget IT Priorities Survey was conducted in late 2014, with 2,212 IT workers surveyed. Respondents to the survey work in IT for companies of an average size with 16,870 employees.
Next Steps
See results from the prior year's IT Priorities survey summarized here, as well as 2013 conclusions. Then, check out what IT pros reported as their top 2016 IT spending priorities in TechTarget's latest IT Priorities Survey.