Evaluate
Weigh the pros and cons of technologies, products and projects you are considering.
Envisioning the future of mainframe technology
Traditional mainframe systems will continue to have advantages over x86 platforms, but with similarities between the two increasing, it is possible they will likely converge.
Reading the tea leaves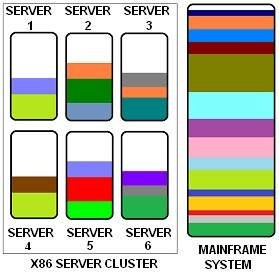 Even users who are keeping mainframes alive and running in their shops say there will always be use cases where mainframes don't make sense, either because of their costs or the way they operate. For example, x86 server clusters use low-cost, incrementally scalable industry standard hardware, for which there is currently a higher rate of innovation and development within the vendor ecosystem. This approach also appeals more to skills common among administrators of the "PC generation."
On the mainframe side, while systems are monolithic, more expensive and can be difficult to integrate with newer workloads, some users continue to swear by their systems' high level of utilization and resiliency, calling it the gold standard for data security and performance.
But with the similarities between x86 and mainframe architectures increasing under the auspices of the private cloud, it's not unreasonable to ask whether the two will eventually converge completely. Most pros fall somewhere in the middle, predicting that some workloads, such as graphics rendering or Windows file systems, will never make sense to run on a mainframe, and other tasks, such as high-scale data warehousing, aren't suited to run on distributed systems.
For more on this discussion, tune in to our podcasts with experts Wayne Kernochan and David Floyer.
Dig Deeper on IBM system z and mainframe systems