Evaluate
Weigh the pros and cons of technologies, products and projects you are considering.
Data center house of horrors: Sleepy Hollow geothermal data center
In this fourth slide of the data center house of horrors slideshow, a Sleepy Hollow, N.Y., data center will feature geothermal energy from an unusual source.
New geothermal data center scheduled to open in Sleepy Hollow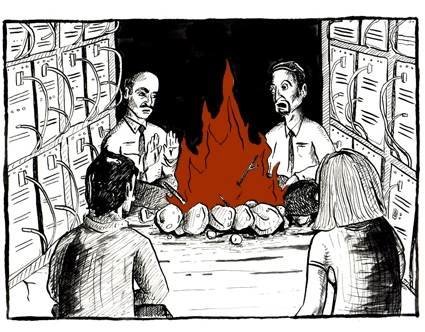 A newly built data center in Sleepy Hollow, N.Y., will go into operation at sunset on October 31. Built completely underground and independent of the local power grid, it will operate with geothermal energy harvested from Hades and fed via PDUs (pumpkin distribution units) into redundant arrays of jack-o'-lanterns. Tombstones, which are always cool to the touch, handle the cooling.
Unlike cloud computing communications which requires an Internet connection, site users can connect from anywhere in this world (or the next) via a "Lucifer protocol." According to Mephistopheles, director of communications, it will apparently even allow iPhone users to connect regardless of location -- "even if they are six feet under."
The data center's operators remain mysterious, since their outward appearance is well-masked, as is the H-class IP address range of the site. But it should be noted that, according to Ichabod Crane of the Downtime Institute, which was responsible for the Fear IV-level design, various viruses are likely, as well as spells and incantations in Hexadecimal format.
Security will be tight, as denoted by the sign at the front gates of 666 Elm Street: "Abandon all hope ye that enter here." Moreover, rumor has it that the site will be patrolled aerially during the evening by an all-female staff with pointed hats.
Authorities say they have been forewarned, are prepared and have engaged Ghostbusters to respond in the event of paranormal occurrences.
-- Julius Neudorfer
Dig Deeper on Data Center jobs and staffing and professional development