Evaluate
Weigh the pros and cons of technologies, products and projects you are considering.
Data center house of horrors: Demonic CRAC units
In this eighth and final slide of the data center house of horrors slideshow, a CRAC unit that blew out unusually hot air is profiled.
Demonic CRAC units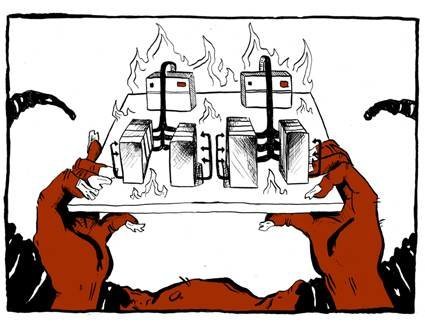 Have you ever experienced a CRAC unit blowing out hot air from the bowels of Hell? Have you raised your inlet air temperature to the newly expanded ASHRAE recommendation and forced your admins to sit in the contained hot aisle?
One data center consultant had a large client with servers that shut down because of the overheating in the data center. "We told him he needed to fix the cooling," he recalled. "The next day, he called back and said the cooling was fixed ... the room was at 20 [Celsius] and the servers were still shutting down. I had to fly to Tokyo to see what was going on, and I asked them to see what they changed in the cooling system.
"They took me to the column where the thermostat sits and pointed to the perforated tile they stuck at the base of the column to cool the thermostat. The rest of the data center was burning up! I couldn't believe it. I had to tell them it is the temperature at the inlet that matters, not the thermostat."
Dig Deeper on Data Center jobs and staffing and professional development