Data Center Library: Enterprise Data Center Design and Methodology
A review of Enterprise Data Center Design and Methodology by Sun Microsystems Inc.'s Enterprise Architect Rob Snevely.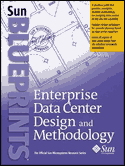 TITLE: Enterprise Data Center Design and Methodology
AUTHOR: Rob Snevely
PUBLISHER: Sun Microsystems Press


Rob Snevely has written an easy-to-understand guide that fits neatly between the worlds of data center and facilities management. Snevely opens the book with a discussion of design philosophy and fuses it to project planning before heading into more technical material, such as formulating and determining power and cooling requirements.

The focus is on developing a scalable system that can be applied in a relatively modular fashion that eliminates re-inventing the wheel each time a rack or cooling unit needs to be installed. Attention to details and planning are the primary vehicles for designing using Snevely's methodology. And because the material is presented in an entertaining tone (including chapter quotes from the likes of Sir Arthur Conan Doyle, William Shakespeare, and The Ramones) the reader will not get bogged down in dry, laborious text.

Although there are some examples and numbers used to illustrate some of the finer points, the book at times functions less as a guide and more as a checklist. To that end, the greener data center designer will find an invaluable handbook that presents information that a more experienced designer probably wouldn't miss. However, that is not to say that this book is for beginners only. Even more experienced designers will find Snevely's discussion of rack location units (RLU) and the reference list, for example, useful. Either way, it's an excellent book to read before and during your next data center project.

About the author:
ROB SNEVELY is an Enterprise Architect at Sun Microsystems, working in the Quality Engineering and Deployment organization. He has over 14 years' experience working with large-scale UNIX[R] systems in data center environments and is responsible for data center architecture for all of Sun's Enterprise Technology Centers.
Dig Deeper on Data center backup power and power distribution