Share this item with your network:
What you'll build with software-defined architecture

zhu difeng - Fotolia
Composable infrastructure creates new path to SDDC nirvana
Shiny new products like composable infrastructure and on-premises cloud platforms could offer a way to achieve software-defined infrastructure -- but beware the pitfalls.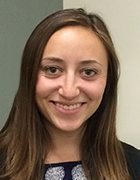 By
Virtualization changed the data center when hypervisors and virtual machines abstracted the underlying hardware. Now, it's microservices and containers pushing a different abstraction paradigm: products that pool and more easily provision data center resources.
A variety of new companies are cropping up, all with the promise of achieving this goal -- but in very different ways. The so-called data center operating system, composable infrastructure and on-premises cloud platforms each offer a new route to the perceived software-defined nirvana.
But the definition of the software-defined data center (SDDC) remains hazy at best.
For years, VMware touted the concept of the SDDC in an attempt to push products such as vRealize and vSphere. But VMware struggled to explain just what it meant when it talked about SDDC, said Mike Matchett, an analyst at Taneja Group.
"It was a vision of saying, 'Well, as our hypervisor evolves, it would come to support more things to encompass the whole data center,'" he said. "That's a corporate land grab."
With a true SDDC, IT departments can reduce their data center to sets of files, Matchett said. Then, IT can take a snapshot that can be reproduced and sent to a service provider. This flexibility allows IT to more easily provision new workloads and quickly respond to business demands.
"From that file, [a service provider] can spin up and provision everything that I have -- from the networking to the firewall to the servers and storage devices -- and create that virtually for me," Matchett said.
The brave new world is, 'Can I come up with similar functionality to virtualize hybrid, multi-cloud or cross-cloud operations?'

Mike MatchettTaneja Group analyst
Like software-defined resources, composable infrastructure gives organizations more flexibility over the deployment and configuration of data center resources, he said.
While both help further de-emphasize physical servers, they are separate concepts. Composable infrastructure is a framework that enables a physical set of resources to be delivered as services, said Jason Campagna, practice director of cloud and automation at World Wide Technology, a technology service provider based in Maryland Heights, Mo.
"[Composable infrastructure] is more of an underlying efficiency play related to software-defined. You can't really compare them directly," Campagna said.
Squeeze more out of servers
Robert Green, CTO of Dizzion Inc., an end-user computing service provider based in Denver, is currently looking into composable infrastructure to support his company's high-density workloads.
Six years ago, the company looked for a public cloud to quickly deliver virtual desktops and streaming applications to customers, but it couldn't find a suitable platform. Instead, the company built its own modular cloud platform based on hyper-converged infrastructure, spread across pods around the world, and began targeting customers with strict compliance requirements as part of its business strategy. The process required the IT team to bifurcate compliant from noncompliant workloads and create separate hardware and network stacks.
"How do we find efficiencies in that structure that we've created, and how do we get the most out of that hardware?" Green said.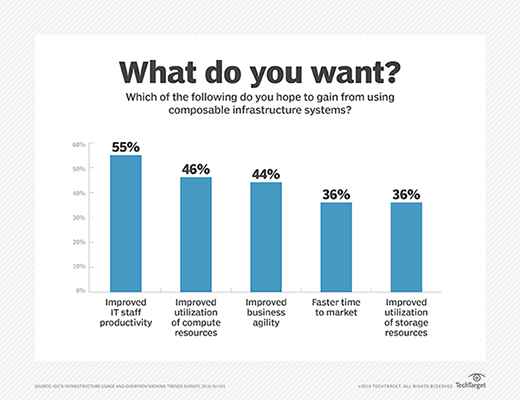 For Green, the answer was a composable, software-defined, bare-metal infrastructure from Liqid Inc. Liqid's composable infrastructure allows Green to create an infinite combination of physical hardware that exceeds the bounds of a traditional chassis, providing a higher level of flexibility and control. This approach turns the concept of server virtualization on its head, using a PCIe fabric to pool resources from multiple physical servers rather than divvying up those physical servers into smaller VMs. Customers can effectively stitch together resources across multiple hosts to handle demanding workloads or break apart resources from the pool into separate virtual servers.
"Many companies love the promise of the cloud, but just don't have the capacity or ability to actually use it," said Jay Breakstone, founder and CEO of Liqid.
Many of Liqid's customers are cloud providers themselves, while other customers deal with workloads that require a more agile, cloud-like infrastructure.
Look like a cloud
To achieve that level of flexibility and control and to take a step toward software-defined, organizations need to approach their IT operations like they're running a cloud, Matchett said.
"The brave new world is, 'Can I come up with similar functionality to virtualize hybrid, multi-cloud or cross-cloud operations?''' he said. "You've got to be very cloud-like, whether you're on premises or in a cloud."
Cloudistics Inc., an on-premises cloud platform company based in Reston, Va., takes the cloud approach to on-premises software-defined infrastructure, allowing IT teams to manage virtualized networking, storage and compute from a single console and easily deploy and secure applications.
"For a true software-defined data center, you should be able to carve out your resources and hand them out to multiple parties, with isolation between them," said Srinidhi Varadarajan, CTO and founder of Cloudistics. He added that everything should be virtualized.
Companies like Cloudistics are trying to overcome the limitations of traditional hypervisors by building a composable stack that can aggregate physical resources, said Ashish Nadkarni, an analyst at IDC.
"With physical storage resources, that problem has been solved," he said. "But people still struggle with physical compute resources because of latency, redundancy and failover. ... What these guys do is try to pool that together."
Mesosphere's data center operating system, otherwise known as DC/OS, attempts to improve the server provisioning process by aggregating physical servers into one centrally managed pool of resources. Although Mesosphere's DC/OS is technically considered a container clustering product, there's some crossover into the software-defined realm.
"It's almost like a management layer that sits on computing platforms," Nadkarni said.
Degrees of abstraction
Virtualized, composable and software-defined resources all aim to abstract away physical constructs and allow users to dynamically provision new workloads. But don't confuse the three approaches:
Virtualization carves out physical resources and assigns them as an emulated physical unit -- a virtual machine.
Composable infrastructure pools physical infrastructure. Those resources can then be shared among multiple clients.
Software-defined resources separately deploy the smart parts as a software application over a physical or virtual commodity-based infrastructure.
To begin the foray into the software-defined space, the data center needs to have persistent applications, allowing IT to schedule VMs and containers in a distributed environment, Matchett said.
"When you look at [products] ... like Mesosphere, you're taking a step in that direction," he said. "You can create a more homogenous or unified infrastructure; you could also more easily extend that to a cloud footprint and marry those two worlds together."
Mesosphere, conceived out of a variety of open source projects including Apache Mesos, is a platform that the company describes as a data center operating system. It aims to install and run applications through software containers, automating operations involved with application deployment and upgrades. The product also allocates applications and workloads to the right machines, which optimizes resource efficiency.
But the term data center operating system is mostly marketing jargon, Nadkarni said.
"When you say DC/OS, it implies that everything in the data center falls under the purview of that operating system, and that's not the case," he said. "It cannot handle physical servers, VMs, facilities, power or cooling."
There's no easy button
Although companies such as Cloudistics and Mesosphere appear to be taking a holistic approach to the management of software-defined infrastructure at first glance, Campagna warned potential users not to be dazzled by the promise of an easy button.
Campagna works with large enterprises, helping to strategize and implement software-defined infrastructure in their data centers. Although he is aware of companies such as Cloudistics and Mesosphere, he has seen little adoption by his own customer base and instead sees more enterprises that software-define their infrastructures through vRealize and Dell EMC's suite of SDDC-related products.
Products that promise an on-premises cloud platform actually compete with a hybrid cloud strategy, he said, whereas composable infrastructure supports those efforts.
"Those companies, as much as they love to sell lots of infrastructure, are really missing the ability to be extensible across their environment in their selling motions. And they tend to be very finite and specific in their capability sets," he said.
When customers make an SDDC purchase, the product often fails to meet their expectations because the buyer hasn't taken a holistic view of their data center strategy, he said.
For Dizzion's overall strategy, on the other hand, Green intends to recycle every aspect of his existing infrastructure, such as memory and compute and then layer a hypervisor on top and add GPU cards. As a startup, it's not cost-effective to make the investment of new IT equipment every three to four years, as it is released, he said.
"That's what we're working toward: the ability to mash these things together and create these composable, physical pieces of hardware that we can then put our software on top of and orchestrate," he said. "[The full API integration] was the component that was so rich for us, being able to tie in our existing automation and not have to change our entire paradigm."
Dig Deeper on Virtualization and private cloud