bluebay2014 - Fotolia
Colocation price comparison tools aim to ease IT research
New procurement services, such as Inflect and UpStack, offer a central location to compare prices, services and features from colo companies for easier buying decisions.
The process to find colocation vendors, pull quotes and confirm availability for IT services can be daunting and time-consuming. Colocation price comparison tools and procurement services are emerging in the market to help users more easily research and connect with colos and other cloud and IT services vendors.
If your organization considers a move to colocation, you'll need to locate a facility in your region and ask a multitude of questions: what it charges, what's its available and planned capacity, what services it provides and what's left up to your enterprise, what's its downtime policy, etc. That information may not be readily available or updated through an internet search. The next step is the request for proposal process, which is time-consuming, requiring a lot of legwork to gather estimates, work with consultants and review price quotes and heavy back and forth between customer and provider.
"Customers want to be able to see what they're getting into now more than ever, because they have public cloud comparisons that they can align or compare to that are publicly available," said Sophia Vargas, an analyst at Forrester.
As a result of the increased transparency across the board, colocation price comparison tools have centralized this information and made it much easier for users to find it and, ultimately, use it earlier in the process.
"What we're finding over time is that vendors are getting more transparent," said Christopher Trapp, CEO of UpStack in New York. "When I got into this business 10 years ago, it was very challenging for us to even identify what the physical addresses of data centers were."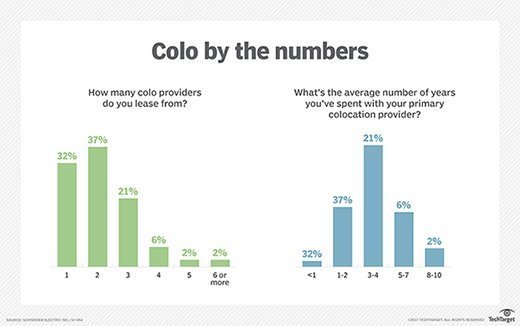 Colocation price comparison tools simplify the selection process
While researching colocation facilities, often, the data is too much to digest and not in a common format for an accurate comparison.
Mike Hollander, CEO of MOD Mission Critical, a managed services provider based in Greenwood Village, Colo., previously researched international colocations for his business with free, unsupported websites, such as Data Center Map, an independent service that links data center clients and providers. Then, he would determine the location's connectivity and cost, which was a lengthy process.
"You've got one guy quoting in [kilowatts], one guy quoting in amps, one guy quoting full cabin without power," he said. "Unless you're an expert, it seems like a foreign language."
Hollander turned to Inflect, a colocation price comparison tool that centralizes information about colocation providers' services. Users can input parameters for their data center infrastructure and compare services and pricing from vendors in a common language based on those requirements. For Hollander, the process generated results in five minutes instead of one or two hours doing his own research, he said.
The service, currently in preview mode, eventually will rank additional factors, such as colocation staff expertise and the ability of the service provider to solve a problem, and incorporate that into the final result for users to compare before making a purchase through the platform, said Mike Nguyen, CEO of Inflect in San Francisco.
A colocation price comparison tool can help with the research process, but prospective customers shouldn't rely solely on the service to make their decisions, Vargas said.
"[Companies] try to make [these tools] a lot easier to use, but that also means that you can't customize them to the level of detail that would help customers make more accurate decisions or more accurate comparisons."
Procurement tools typically receive commissions on purchases through their site, but that doesn't guarantee vendor neutrality. The lack of granular input means the comparison models have baked-in assumptions, and the absence of certain elements might affect a service's costs, Vargas said. "[They may be] a bit more ambiguous around other components that might put another solution in a better light," Vargas said. There's also a chance that service providers actually pay to improve their numbers and exposure to users. Hollander said this happens among some multiple-service operators and large carriers, but he's not overly concerned about it with colocation comparison tools.
Procurement tools bring users, vendors together
Users who turn to a colocation price comparison service expect that the prices on display are accurate, but vendor prices often change. UpStack's eponymous IT procurement platform leaves it up to the vendors to input pricing when a customer requests it.
Through UpStack, which went into live beta at the end of October, users can locate IT services, view service comparisons and pricing and request quotes directly from vendors. Through the platform, user quotes are submitted to vendors directly, which leads to them receiving quotes in a much shorter time, ideally within about 48 hours, depending on how much they've automated their pricing information. Requests also can be answered through the platform, Trapp said.
There should be another strategic value to this platform versus just a cheaper way to run infrastructure. What else are you getting that's not just the raw cost of infrastructure?

Sophia VargasAnalyst, Forrester
Pricing alone shouldn't be the deciding factor for prospective colocation customers. Customers should look at additional services that colocation facilities offer, such as global accessibility, interconnectivity features, remote hands services and marketplaces, Vargas said.
"There should be another strategic value to this platform versus just a cheaper way to run infrastructure," she said. "What else are you getting that's not just the raw cost of infrastructure?"
Customers must consider not only physical requirements or static specifications, but also more dynamic specifications, such as the networking or other service providers within those data centers, Trapp said.
As more data centers consider edge computing, factors such as performance, latency, security and compliance requirements become a higher priority, said Jeffrey Fidacaro, analyst at 451 Research.
What does the future entail?
The market for colocation comparison services, such as UpStack and Inflect, is still in its infancy, but as more enterprises choose to move away from data center ownership and embrace colocation services, larger amounts of data will be available for comparing and contrasting.
But even in this market's early days, these colocation price comparison services save significant time and even shift the culture of IT, Fidacaro said.
Previous methods to evaluate and select a colocation provider required input from specialists, such as network administrators, facility operators and server and storage experts, but third-party services, such as UpStack and Inflect, offload some of that required brainpower. This could contribute to an overall increase in IT generalist roles and help alleviate the strain for specialist roles, such as service-level agreement (SLA) managers and colocation service experts, Fidacaro said.
In a recent 451 Research study, more than half of colocation customers indicated they use multiple providers, which means they deal with multiple SLAs. A company could hire a manager to deal specifically with those contracts or use third-party colocation comparison services and focus on IT innovation instead, Fidacaro said.
Tim Culverhouse is an assistant site editor for SearchDataCenter and SearchAWS. Contact him at [email protected], and follow him on Twitter @tculverhouse_TT.
Dig Deeper on Colocation, hosting and outsourcing management