pixstock - Fotolia
Blade server cost, performance guide purchasing decision
The TechTarget Server Hardware Survey reveals how data center pros buy blade servers, and what they plan to purchase in the next year.
Blade servers allow more processing power in less rack space, so is it surprising that more people buy for performance and cost, and don't consider management or density as much?
The TechTarget Server Hardware Survey asked qualified respondents what the most important factor is when choosing blade servers. The largest group of respondents -- 36% -- said performance was paramount in their decision. Blade server cost came in second, with 23% of respondents saying the price tag was the most significant influence.
Management features (11%), vendor relationship (11%), power consumption and efficiency (8%) and ease of deployment (8%) also got nods. But missing from the list were form factor and support, and density and thermal loading rarely mattered most to people buying blade server technology.
Blade servers occupy less space for high performance than rack servers. Blade server design puts key server components on circuit boards, slotted into a chassis. The elimination of dedicated cabling and other elements to each server board can save organizations money. Processing capabilities of blade servers is also crucial in the purchasing decision, so processor, memory and drive support must be considered.
When asked what they were planning to buy in the next 12 months, 49% of respondents chose physical servers. In second with 40% of votes was virtualization software, a strategic IT infrastructure improvement in 2015. This includes new hypervisors and network virtualization software, such as VMware NSX.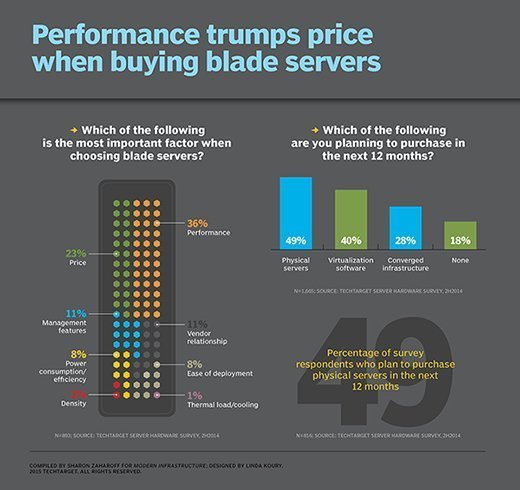 Only 28% of respondents said they plan to purchase converged infrastructure (CI), a major IT trend that picked up in 2014. The opportunity for CI adoption will jump between $7 billion and $8 billion in the U.S. from 2014 to 2015, and total $17.8 billion globally, according to data from Christian Perry at research company Technology Business Research Inc. in Hampton, N.H.
On the other hand, a minority -- 18% -- of respondents said they were not planning on making a purchase within the next year. This decision could be budgetary or due to recent major data center purchases.
Editor's note: The TechTarget Server Hardware Survey is a snapshot of responses to an ongoing survey of IT professionals. Respondents per question are noted in the graphic. Survey respondents demonstrate an interest in purchasing the technology described.