Sergey Nivens - Fotolia
Big data projects geared toward higher profitability
Learn how organizations make big data decisions, and if their loyalty lies with the same vendor.
Successful big data projects can be the difference between opportunities and falling behind, which begs the question "Does vendor loyalty exist anymore?"
The TechTarget Big Data Survey (see infographic) asked IT professionals what goals their organizations were trying to accomplish with big data projects. Forty-three percent of respondents, who could choose multiple options, said they use big data to improve organization efficiency and profitability. Analyzing the wealth of available information allows organizations to predict trends and capitalize on opportunities that could lead to big profits.
Not far behind, 39% of respondents said their big data projects are aimed at gaining a competitive advantage over business rivals. Organizations invest in big data initiatives to stay ahead of the competition -- they don't want to miss opportunities that big data offers. This is reflected in the number of businesses spending on the trend, up 9% from last year, according to "Big Data Investment Grows but Deployments Remain Scarce in 2014," a big data survey by Gartner Inc., a research firm in Stamford, Conn.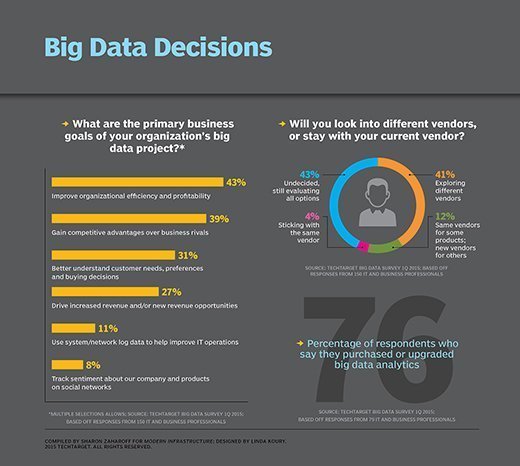 A majority -- 76% -- of the TechTarget Big Data Survey respondents say they upgraded or purchased products for big data analytics in the last year. When asked if they would consider looking into other vendors, or stay with their current vendor, 41% of respondents answered they are exploring different options, and only 4% are sticking with the same vendor.
Feeling antisocial
Despite the growing use of social networking in the enterprise, only 8% of survey respondents run big data projects to track sentiment about their company and products on social platforms.
"A lot of companies have social analytics and don't know what to do with it," said Jenny Sussin, research director at Gartner. The issues with information from social media lie in defining its use, she added.
"You need to know what you're looking for [and the response] needs to be built into your business process."