bluewhalepix - Fotolia
Manage
Learn to apply best practices and optimize your operations.
A nightmare on Data Center Street
Where data center manager monsters creep lies the scariest, ugliest, darkest sight you've ever seen. Follow the stairs through our haunted data center -- if you dare.
Welcome to our haunted data center. There's no need to be afraid -- unless you're an inexperienced sysadmin; for they have not fared so well in the past.
Follow the masked monster manager through the haunted data center, but watch your step. In this dark data center you will find all kind of horrors, from failing mainframes and melted servers, to mangled cables and a jagged raised floor that claims inattentive victims. And mind the cold; it gets colder and colder as you descend the steps.
Be careful on your descent; the stairs haven't been up to code since the ghosts loosened the floorboards. But you might not notice the protruding nails if your head is raised to avoid the leaky sprinklers. Legend has it an old black cat makes the puddles its playground at night. Data center worms flee from the grey masses of water and find solace in the computers.
Afraid of being sliced and diced? Don't be, there hasn't been a data massacre in days. You should manage to stay alive, as long as you have shoe covers and a wooden stake.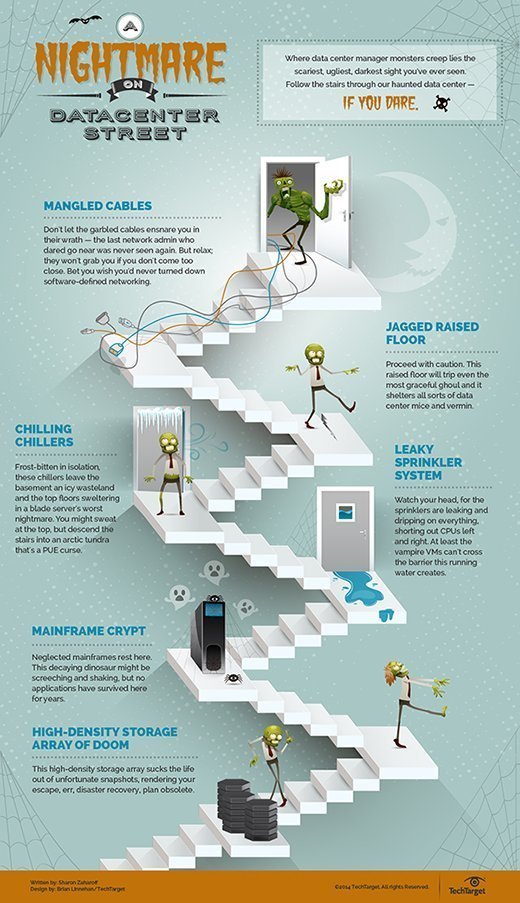 Halloween music credit: musicforyourmedia/iStock