Definition
high-performance computing (HPC)
High-performance computing (HPC) is the use of parallel processing for running advanced application programs efficiently, reliably and quickly. The term applies especially to systems that function above a teraflop or 1012 floating-point operations per second. The term HPC is occasionally used as a synonym for supercomputing, although technically a supercomputer is a system that performs at or near the currently highest operational rate for computers. Some supercomputers work at more than a petaflop or 1015 floating-point operations per second.

Download this free guide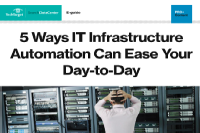 Free Guide: 5 Ways IT Infrastructure Automation Can Ease Your Day-to-Day
For IT admins, the maintenance of networking, storage and compute is an overwhelming task -- especially as data center technology becomes more complex. Fortunately, automation can help ease the burden of tedious tasks, but how exactly? Our expert explains 5 ways IT infrastructure automation lessens the load for data center teams.
The most common users of HPC systems are scientific researchers, engineers and academic institutions. Some government agencies, particularly the military, also rely on HPC for complex applications. High-performance systems often use custom-made components in addition to so-called commodity components. As demand for processing power and speed grows, HPC will likely interest businesses of all sizes, particularly for transaction processing and data warehouses. An occasional techno-fiends might use an HPC system to satisfy an exceptional desire for advanced technology.
Continue Reading About high-performance computing (HPC)
Dig Deeper on Linux servers