Definition
hardware clustering
Hardware clustering (sometimes called operating system clustering) is a hardware-based method of turning multiple servers into a cluster (a group of servers that acts like a single system). As a rule, a hardware cluster is created by installing a number of blade servers on the machine that will control the cluster. Each of the blade servers functions independently of the others, although they all respond to the same requests. The operating system of the controlling server is responsible for monitoring the cluster and performing administrative tasks, such as deciding when failover is necessary and assigning the load of a failed node to a functioning server.

Download this free guide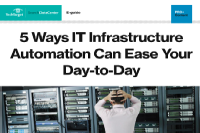 Free Guide: 5 Ways IT Infrastructure Automation Can Ease Your Day-to-Day
For IT admins, the maintenance of networking, storage and compute is an overwhelming task -- especially as data center technology becomes more complex. Fortunately, automation can help ease the burden of tedious tasks, but how exactly? Our expert explains 5 ways IT infrastructure automation lessens the load for data center teams.

Click image for all TechTarget search results for this term.
A hardware cluster may be active-passive, in which case some redundant servers are reserved for failover duty and do not run any applications of their own. It can also be active-active, in which case all servers in the cluster run their own applications but also reserve resources to allow them to perform failover duty for each other.
Hardware clustering typically requires some software application changes. The alternative to hardware clustering, application clustering, is a fully software-based method of clustering servers. Because application clustering doesn't require specialized hardware, it is usually less expensive to implement than hardware clustering.
Continue Reading About hardware clustering
Dig Deeper on Linux servers