Definition
colocation marketplace
A colocation marketplace is an online service that connects data center colocation customers with third-party vendors and service providers. When the marketplace is provided by the colocation provider, the services and technologies typically integrate with, or optimize, the provider's own offerings.
The specific types of services found in a colocation marketplace vary by colocation provider and facility. But, in general, marketplaces can include content and IT management platforms; networking and connectivity services; business analytics software; software as a service (SaaS) applications for vertical markets, such as healthcare and education; IT security tools; and an app exchange that allows customers to visualize their colocation environment.
Content Continues Below

Download this free guide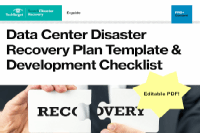 Data Center Disaster Recovery Plan Template
Utilize this data center disaster recovery plan template and development checklist to assess how your data center facility and its infrastructure would perform during a disaster.
Colocation customers and the third-party vendors selling services and technology through the marketplace may be able to interact with each other through social media-like messaging platforms.
There are advantages for both colocation customers and third-party vendors when participating in a colocation marketplace. Colocation customers benefit from finding services and technologies that can integrate smoothly into their colocation environment, and, in some cases, receive discounts from providers when they connect with them through the marketplace portal.
Vendors benefit by obtaining highly qualified leads. Some marketplaces also include tools that suggest how vendors can improve their marketplace profiles.
One specific service type increasingly found in colocation marketplaces is interconnectivity between colocation facilities and the public cloud. As many colocation users move toward a hybrid model in which a portion of their IT infrastructure is hosted on premises in a colocation facility and another portion is hosted in the public cloud, interconnection services provide dedicated, high-performance and secure connections between those two environments, bypassing the public internet.
Interconnectivity services can also help enable cloud bursting -- the ability to run a workload on premises, but "burst" to the public cloud for additional compute capacity during usage or demand spikes.
Within a colocation marketplace, interconnection services are often offered by a third-party networking or cloud provider.
Examples of colocation marketplaces include Equinix Marketplace, MarketplacePORTAL by Digital Realty, Digital Fortress Marketplace and Fortrust Data Centers' B2B Marketplace.
This was last updated in
November 2016
Continue Reading About colocation marketplace
Dig Deeper on Colocation, hosting and outsourcing management