Definition
Uptime Institute's data center tier standards
The Uptime Institute's data center Tier Standards are a standardized methodology used to determine availability in a facility. The Tiers provide a means of quickly stating the expected availability of the platform within the data center, as well as providing a standardized means of comparing facilities, which is increasingly important as hybrid cloud computing becomes a reality. The Tiers also cover operational sustainability, targeting how well a facility is run to meet its objectives.
The Uptime Institute Professional Services group is the only group that can certify a facility under the Tier categories. Therefore, any facility that can show a valid Tier certificate can be compared with any other facility worldwide, unlike many other certification processes. It's important to note that the Tiers use Roman numbering, which means any facility claiming "Tier 4" may not be using the actual Uptime Institute classification and will need further inspection.
Since 2014, the Institute has modified its approach to better reflect the needs of the market, and current Tier certifications are:
Tier Certification of Design Documents awards a certification after an analysis against the complete design document package. The certification is only valid for two years.
Tier Certification of Constructed Facility awards a certification after an on-site inspection and verification of the installed infrastructure. It is valid until any changes are made to the facility.
Tier Certification of Operational Sustainability awards a certificate after an evaluation of the presence and effectiveness of the processes of management and operations around the facility. It is awarded as Bronze (1-year validity), Silver (2-year) and Gold (3-year) certifications.
The Institute also offers a Tier Gap Analysis, which identifies issues at the capital-level that will prevent achieving the further Tier objectives.
As of 2019, more than one thousand data centers around the world had been evaluated and certified by the Institute, some of which have since expired. Of the live and valid certificates, over 200 are Design Document certified, over 150 are Constructed Facility certified and 45 are Operational Sustainability certified.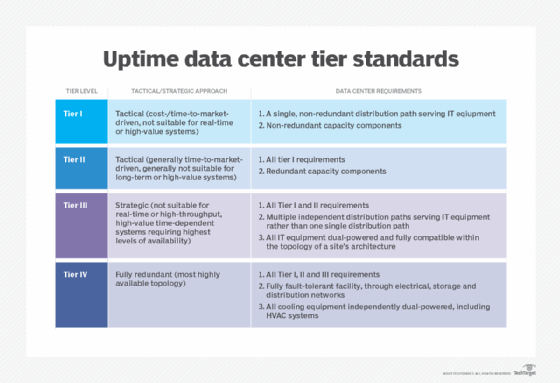 This was last updated in
November 2020
Continue Reading About Uptime Institute's data center tier standards
Dig Deeper on Colocation, hosting and outsourcing management