Definition
Restriction of Hazardous Substances Directive (RoHS Directive)
The Restriction of Hazardous Substances (RoHS) Directive is a set of criteria formulated by the European Union (EU) to regulate the use of toxic materials in electrical and electronic devices, systems, and toys. The Directive, also known as 2002/95/EC, is effective July 1, 2006.

Download this free guide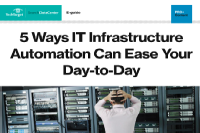 Free Guide: 5 Ways IT Infrastructure Automation Can Ease Your Day-to-Day
For IT admins, the maintenance of networking, storage and compute is an overwhelming task -- especially as data center technology becomes more complex. Fortunately, automation can help ease the burden of tedious tasks, but how exactly? Our expert explains 5 ways IT infrastructure automation lessens the load for data center teams.
The RoHS Directive applies to six specific substances:
Lead
Mercury
Cadmium
Hexavalent chromium
Polybrominated Biphenyls (PBBs)
Polybrominated Diphenyl Ethers (PBDEs)
Lead is found in solder, in the platings for electronic component wires and printed-circuit foil, and in lead-acid rechargeable cells and batteries. Mercury is found in some high-intensity light bulbs and ultraviolet (UV) lamps, and was once common in cells, batteries and high-voltage rectifier tubes. Cadmium is found in older rechargeable batteries for small appliances and devices such as electric razors, cell phones and handheld radio transceivers. Hexavalent chromium exists in a wide variety of electronic components. PBBs and PBDEs are flame retardants used in plastics and in the manufacture of fabric coatings.
The RoHS Directive does not apply to batteries, tools, high-melting-point solders, the glass used in cathode ray tubes (CRTs) and fluorescent tubes, mercury-vapor light bulbs, ceramic components, and certain alloys for specialized applications. While 2002/95/EC applies specifically to the nations in the EU, similar measures have been proposed or adopted in several other countries.
Continue Reading About Restriction of Hazardous Substances Directive (RoHS Directive)
Dig Deeper on IBM system z and mainframe systems