Definition
RAIN (redundant/reliable array of inexpensive/independent nodes)
RAIN (also called channel bonding, redundant array of independent nodes, reliable array of independent nodes, or random array of independent nodes) is a cluster of nodes connected in a network topology with multiple interfaces and redundant storage. RAIN is used to increase fault tolerance. It is an implementation of RAID across nodes instead of across disk arrays.

Download this free guide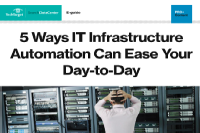 Free Guide: 5 Ways IT Infrastructure Automation Can Ease Your Day-to-Day
For IT admins, the maintenance of networking, storage and compute is an overwhelming task -- especially as data center technology becomes more complex. Fortunately, automation can help ease the burden of tedious tasks, but how exactly? Our expert explains 5 ways IT infrastructure automation lessens the load for data center teams.
RAIN can provide fully automated data recovery in a local area network (LAN) or wide area network (WAN) even if multiple nodes fail. A browser-based, centralized, secure management interface facilitates monitoring and configuration from a single location. There is no limit to the number of nodes that can exist in a RAIN cluster. New nodes can be added, and maintenance conducted, without incurring network downtime.
RAIN originated in a research project for computing in outer space at the California Institute of Technology (Caltech), the Jet Propulsion Laboratory (JPL), and the Defense Advanced Research Projects Agency (DARPA) in the United States. The researchers were looking at distributed computing models for data storage that could be built using off-the-shelf components.
The idea for RAIN came from RAID (redundant array of independent disks) technology. RAID partitions data among a set of hard drives in a single system. RAIN partitions storage space across multiple nodes in a network. Partioning of storage is called disk striping. Several patents have been granted for various proprietary versions of RAIN.
Continue Reading About RAIN (redundant/reliable array of inexpensive/independent nodes)
Dig Deeper on Server hardware strategy