Definition
OpenPower Foundation
The OpenPOWER Foundation is an open, not-for-profit organization founded in 2013 by IBM, Google, Mellanox, Tyan and NVIDIA to foster technical innovation that will benefit POWER Architecture community members and the IT industry in general.
Although the formerly-proprietary POWER chip architecture and accompanying firmware from IBM has been opened, the instruction set remains in IBM's control.
The goal of the foundation is to create an open ecosystem for sharing technical and business expertise, intellectual property (IP) and investment risk. Current foundation innovations include workload acceleration through graphics processing units (GPUs), advanced I/O, field programmable gate arrays (FPGAs), platform optimization for virtual appliances and advanced approaches to optimizing hardware that a better performance per dollar spent.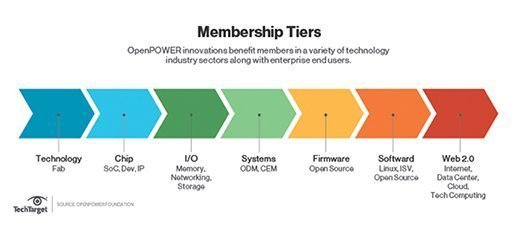 The foundation is governed by its Board of Directors and currently has over 130 members. An advisory group, whose members include Open Compute, the China POWER Technology Alliance (CPTA) and the Linux Foundation, exchanges information, examines industry trends, communicates what progress has been made in the organization and assists with potential collaborative projects. Through this collaboration, IBM expects the high-performance POWER chip to become more integrated with open platforms like Linux and OpenStack.
To become a member of the Foundation, applicants must sign the Membership Agreement and attest that they agree to abide by the OpenPower Bylaws and the Intellectual property Rights Agreement.
The OpenPower Foundation has a multi-tiered membership structure.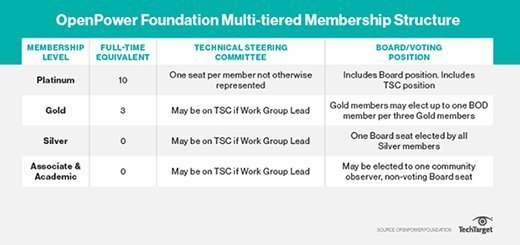 This was last updated in
July 2015
Continue Reading About OpenPower Foundation