Definition
ITIL (Information Technology Infrastructure Library)
The ITIL (Information Technology Infrastructure Library) is a framework designed to standardize the selection, planning, delivery, maintenance, and overall lifecycle of IT (information technology) services within a business. The goal is to improve efficiency and achieve predictable service delivery. The ITIL framework enables IT administrators to be business service partners, rather than just back-end support. ITIL guidelines and best practices align IT department actions and expenses to business needs and change them as the business grows or shifts direction.
ITIL started in the 1980s, when data centers decentralized and adopted more geographically diverse architectures. This practice caused process and deployment discrepancies and brought inconsistent or suboptimal IT services performance into organizations.
The United Kingdom's Central Computer and Telecommunications Agency (CCTA) recognized the importance of perceiving IT as a service and applying consistent practices across the entire IT service lifecycle and developed Government Information Technology Infrastructure Management (GITIM). The organization released ITIL v1 in 1989.
In 2000, the CCTA folded into the Office of Government Commerce (OGC) and released ITIL v2 the following year.
ITIL v3 emerged in 2007 and was updated in 2011 to include feedback from the user and training community, as well as resolve errors and inconsistencies.
The U.K. Cabinet Office and Capita PLC formed the business in 2013. The organization's mission is to "make individuals and organizations more effective by providing practical guidance, content and qualifications distilled from real-world experience and developing practices."
Global best practice company Axelos currently oversees ITIL development. Axelos announced the latest ITIL guidelines in 2017, and released ITIL v4 and related modules throughout 2019 and 2020.
ITIL process framework
Each iteration of ITIL delivers updated documentation and certifications to prepare admins for the current infrastructure landscape and the types of services they provide. ITIL's framework is not a rigid checklist to implement best practices -- organizations evaluate and implement the aspects that are most important for their needs.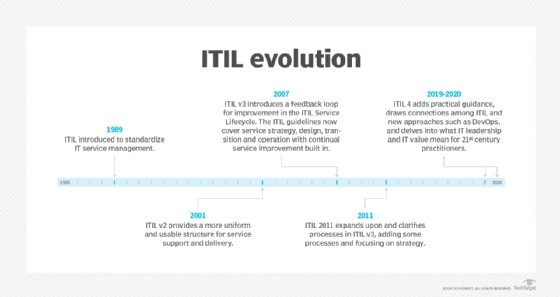 In 1989, ITIL's goal was to standardize IT service management (ITSM). This iteration gave organizations an overview of how to streamline services and helped admins start thinking about best practices.
ITIL v2 offered admins a more applicable and uniform structure for service support and delivery and included actual processes for organizations to follow.
ITIL v3 gives a broader look at IT services and adds guidelines on service strategy, design, transition and operation. It also outlines ways for businesses to continuously improve services. Its framework of core publications collects best practices for each major phase of the ITSM. These books and their core concepts are:
Service Strategy. Describes business goals and customer requirements and how to align objectives of both entities.
Service Design. Outlines practices for the production of IT policies, architectures and documentation.
Service Transition. Advises on change management and release practices, and also guides admins through environmental interruptions and changes.
Service Operation. Offers ways to manage IT services on a daily, monthly and yearly basis.
Continual Service Improvement. Covers how to introduce improvements and policy updates within the ITIL process framework.
ITIL v3's stages and processes remain valid and widely used.
ITIL v4 is designed to help IT admins navigate the ins and outs of the Fourth Industrial Revolution and provide guidance for the role of IT management in a service economy. ITIL v4 accommodates newer approaches, such as DevOps, automation, containers and microservices, and the cloud, and it emphasizes the integration of IT services management with other areas of a business.
ITIL v4 presents four dimensions of service management: organizations and people, value streams and processes, information and technology, and partners and suppliers. These are mapped to service value systems and chains.
ITIL v4 also includes 34 practices, defined as resources and activities to perform work or accomplish an objective. (By comparison, ITIL has redefined processes as recommendations to guide an organization in all circumstances regardless of type of work, goals or management structure.) These practices are broken down into three categories:
General management practices, including projects and portfolios, enterprise risk, information security, continual improvement, workforce and talent, relationships and suppliers
Service management practices, such as business analysis, service design and continuity, service desk, monitoring and incident management, change enablement, and IT asset management
Technical management practices, covering software development, deployment, infrastructure and platform
Certifications
ITIL adoption and maintenance requires trained and certified experts to guide a company and its IT staff. Businesses such as Microsoft, IBM and Hewlett Packard Enterprise (HPE) use ITIL as a foundation for their own internal operating guidelines.
Admins complete ITIL training and certification with a combination of classroom training and a written certification exam. ITIL v3 offers five main certifications:
Foundation. This entry-level certification covers key concepts, elements and terminology used for the ITIL service lifecycle and contributions to management services.
Practitioner. This level helps professionals adapt ITIL to their organizations so it supports business objectives. Admins can take the course any time after a Foundation certification; this module also covers organizational change management, communication and metrics, which aren't available in all certifications.
Intermediate. Each module of this certification goes into different components of ITSM but requires more detailed knowledge than Foundation-level exams. The track is split into service lifecycle and service capability modules.
Expert. At this stage, admins are interested in demonstrating the entire ITIL scheme. ITIL experts obtain a set of well-rounded skills pertaining to ITIL best practices. Admins must complete 17 credits from previous modules, the Managing Across the Lifecycle module and an exam to get an Expert certification.
Master. At the Master level, admins need to explain how they chose their areas of study, principles and methods, as well as the techniques they used within their organization to achieve wanted business outcomes. To achieve Master status, there is no certification exam; admins complete a series of written assignments and oral interviews.
ITIL v4 reorganizes these into four certification schemes. Foundation and Master remain, but the others have been merged into two tiers:
Managing Professional. Admins must demonstrate practical and technical knowledge about how to run successful IT-enabled services, teams and workflows. This certification requires three specialist modules -- "Create, Deliver and Support," "Drive Stakeholder Value," and "High-velocity IT" -- plus a fourth strategist module, "Direct, Plan and Improve." Admins must be at Expert level or complete 17 credits. ITIL v3 Experts can gain this designation via one course and one exam.
Strategic Leader. This level requires knowledge not just of IT operations, but also the interplay of digitally enabled services and business strategy. This tier shares the "Direct, Plan and Improve" strategist module with the Managing Professional tier, so admins with that designation must complete a leadership module -- "Digital and IT Strategy" -- to obtain this one.
Admins can track their certification progress through a credit system, which assigns a specific credit value to each segment.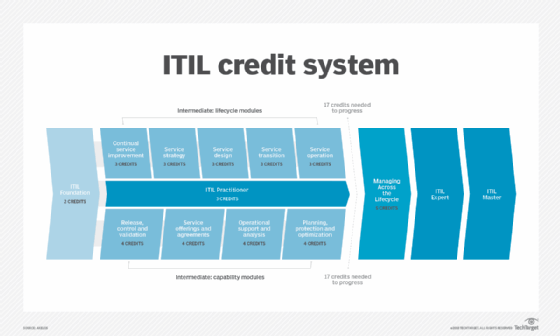 Benefits and drawbacks of ITIL
ITIL is not just about straightforward, rote IT skills. The certification also looks at how admins can apply their knowledge within the larger scope of their organization and align with business practices. This means admins now have more cohesive best practices when addressing all facets of IT management. With this in mind, there are six main, identifiable benefits of ITIL certification:
Better goal alignment between IT departments and the business
Improved service timelines and customer satisfaction
Reduced operational costs due to better utilization of resources -- digital, physical and human
Increased visibility of IT costs and assets
Streamlined service disruption response and management
More flexible service environment that can easily adapt to change
The principles behind ITIL v4 -- focus on value, iterative progress, collaboration, visibility and transparency, simplicity, and automation -- aim to expand ITIL's relevance to software developers, service management practitioners and businesses.
ITIL also provides a good foundation for organizations that don't have any sort of services framework or best practices and enables admins to pursue job specializations.
In spite of its benefits, ITIL poses some potential drawbacks for the business:
Training requirements can be extensive and time-consuming, and successful implementation requires staff expertise
ITIL rollouts can take years to fully implement and refine
There is little, if any, short-term return on ITIL initiatives
Changes prescribed by ITIL initiatives can be disruptive to existing process and infrastructure
The long-term nature of ITIL can easily be disrupted by other short-term projects and initiatives
Admins must be cautious about how management interprets and implements ITIL. It is an industry standard, but that doesn't mean it will solve internal personnel or compliance issues. Its implementation guides can make process development easier, but they don't necessarily account for more innovative processes or technologies. ITIL's implementation requires staff time, training and expertise, so organizations must ensure that they have the appropriate resources -- and certified employees -- before going through with an ITIL implementation.
This was last updated in
November 2020
Continue Reading About ITIL (Information Technology Infrastructure Library)
Dig Deeper on IT compliance and governance strategies