Evaluate
Weigh the pros and cons of technologies, products and projects you are considering.
Learn about, compare and choose the right DCIM software
DCIM software offers features for network monitoring, asset management, capacity planning and power and cooling management. Learn what you need from a software suite and which options would be the best fit.
Introduction
Data center infrastructure management software allows admins to oversee how their data center infrastructure and its resources perform. The system collects information on capacity, power, cooling and other assets from data center infrastructure and facilities and then consolidates it into real-time reports so admins can better plan, prepare and properly manage resources. DCIM software is valuable for the modern data center to prepare for disaster prevention, improve capacity planning and more.
DCIM tools vary from vendor to vendor, but buyers should pay particularly close attention to the following capabilities when analyzing their options: energy monitoring, environmental monitoring, asset management, cabling management, data center visualization, event management and workflow optimization.
Buyers must know exactly what their data center requires from a DCIM software suite as different products have different focuses. This guide explores both the business case and technical functions offered by DCIM software, the specific options available on the market and, ultimately, how they stack up against one another in meeting data center management needs.
1

What is?

-
The evolution of DCIM tools and their role in the data center
DCIM tools perform many functions in the enterprise data center. Buyers must know what tool categories and capabilities exist and how they would impact their specific data center needs.
Feature
Admins need solid DCIM software to keep their data center operations running smoothly. Learn about the exact functions and role of these tools in data centers today. Continue Reading
2

Do I need?

-
Why modern data centers need DCIM software
Discover the different business uses for DCIM software and how these products address these specific needs.
Feature
Data centers are taking on more and more management and monitoring tasks, so admins need DCIM software to better manage disaster prevention, capacity planning, energy management and more. Continue Reading

Download this free guide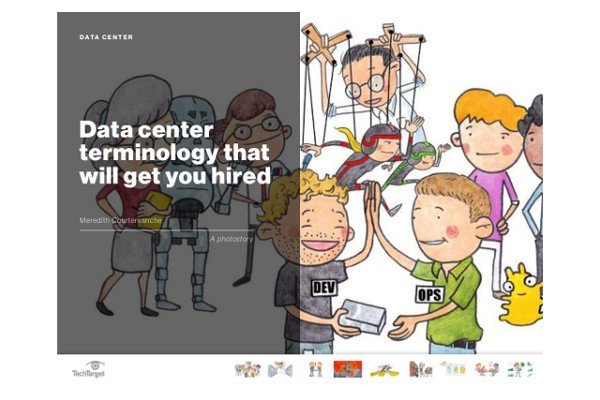 Download: Data center terminology that will get you hired
When it comes to data center job interviews, rattling off common DevOps and automation terms won't get you far – you must establish your knowledge of IT infrastructure scalability and resiliency, as well as culture and business to really impress. Download this COMPLIMENTARY Data Center Terminology guide to learn how to ace your next interview.
3

How to buy

-
Assess and evaluate DCIM software and their functions
Learn the notable functions and capabilities that DCIM software provides its users and what buyers should look for when evaluating what tools would be most suitable to manage their data center.
Feature
It is critical to know how to properly evaluate prospective DCIM software to ensure it meets asset tracking, reporting and network monitoring needs, among other capabilities. Continue Reading
4

Which should I buy?

-
Choose the right DCIM software to best run your data center
Read about the vendors in the DCIM market space so you can select the products that best meet your data center management needs.
Feature
Choosing the right DCIM software vendor will allow your data center to properly manage energy, track assets and activity and control costs. Continue Reading
5

Product roundup

-
Examine DCIM vendor options in-depth
The DCIM market offers a large collection of vendors. Read these detailed overviews of different DCIM software suites -- their features, capabilities and buying and licensing options -- to help you determine the best choice for your business.
Feature
Discover the DCIM software options available, as well as their various specialties, strengths and features, to determine which option would be most beneficial for your data center. Continue Reading