News
Stay informed about the latest enterprise technology news and product updates.
A great time to be a geek
The problem with getting older is that I sometimes find myself set in my ways — gravitating toward things that I knew (or was at least interested in). I confess that I sometimes feel a little overwhelmed by the many abstract concepts emerging across the industry like big data and the Internet of Things just to name a few. After all, I'm a hardware guy, and finding ways to monetize or justify business value in 26 billion connected devices or securely deliver streaming content to a multitude of remote device users is tougher to wrap my brain around than the newest Intel command set. There are moments when I'd rather just move to Nebraska and raise alpacas.

Download this free guide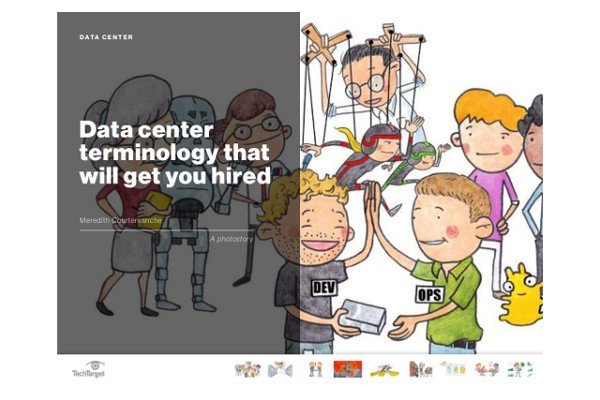 Download: Data center terminology that will get you hired
When it comes to data center job interviews, rattling off common DevOps and automation terms won't get you far – you must establish your knowledge of IT infrastructure scalability and resiliency, as well as culture and business to really impress. Download this COMPLIMENTARY Data Center Terminology guide to learn how to ace your next interview.
But watching this morning's keynote address by Gartner's Chris Howard on "Scenarios for the future of IT" at Gartner IT Operations Strategies & Solutions Summit in Orlando, Fla., reminded me of something that I'd long-forgotten: IT has never been about servers and networks and stacks and all of the engineering stuff; IT is about solving business problems and enabling the business.
Back in those ancient days before the Internet (yes, I was there), IT supported the business by storing and serving up files and even supporting the groundbreaking notion of collaboration. Later, networks and user bases expanded, and businesses needed IT to solve new problems, allowing businesses to support remote users and market the business differently on that thing called the world-wide web.
As we fast-forward to today, Howard's hour-long keynote focused on the challenges of the digital business. This included the importance of context, providing access to data that isn't tied to devices, where devices have the intelligence to determine where you are and what you need. He also talked about the need for analytics that extend to the edge of the environment (not just in a data center) to decide what data is important and how it should be used.
And while Howard cited numerous examples of these issues — where many of the working elements are already in place — there was NO mention of the underlying systems, networks, software, or other elements needed to make all of these business activities possible. It was then that I realized there shouldn't be.
It's not that the underlying parts aren't important. It's just that the underlying parts aren't the point. Thinking back, it really never mattered what server or disk group served up files back in the day. The only goal was that IT needed to deploy, configure and maintain that capability. While today's business demands and pace has changed dramatically, the basic role of IT remains essentially unchanged; to enable, protect and support those competitive business capabilities in a reliable, cost-effective manner. The underlying "stuff" is there, and IT professionals have the savvy to make it all work.
So the real challenge for today's IT pros is to embrace these many new ideas and find the way to map those complex business needs to the underlying infrastructure, which must inevitably evolve and grow to meet ever-greater bandwidth, storage, and computing demands.
Who knows what the next few days in Orlando might bring? Maybe this old dog might actually learn a new trick or two?