Data center energy efficiency guide
In an already troubled economy, IT managers face growing energy costs and surging data center carbon emissions. In this all-inclusive guide, learn how to improve data center energy efficiency through methods such as maximizing server efficiency and energy-efficient cooling.
Data center managers have battled a growing power bill for the past several years, but changing economic, social...
Continue Reading This Article
Enjoy this article as well as all of our content, including E-Guides, news, tips and more.
By submitting your personal information, you agree that TechTarget and its partners may contact you regarding relevant content, products and special offers.
You also agree that your personal information may be transferred and processed in the United States, and that you have read and agree to the Terms of Use and the Privacy Policy.
and regulatory factors are making data center energy efficiency even more important.
In recent years, companies fed the energy consumption beast by building new data centers to provide additional raw power for an increasing number of servers. But in this down economy and tight capital market, IT executives are forced to make do with the resources they have -- and that means squeezing more efficiency out of data centers.
Also, the public sector and governmental agencies are becoming increasingly aware that data centers are energy hogs. High-profile data centers from public-facing Internet companies have gotten the most attention. Facebook's recent data center build-out caught the attention of the national media (and criticism from environmental organizations) for choosing a utility with primarily coal-based power generation.
While many IT shops operate low-profile data centers safe from public scrutiny, none will be able to avoid coming federal regulation. For many industries, data centers are one of the largest sources of greenhouse gas emissions. Governmental agencies, including the Department of Energy and the Securities and Exchange Commission, are becoming more involved in tracking data center energy use. Companies may be required to report data center carbon emissions in the near future.
The following content was created by SearchDataCenter.com's experts and editorial team to help you make the case for data center efficiency to your executives and to offer a roadmap for improving data center efficiency.
TABLE OF CONTENTS
I. The case for data center energy efficiency now
II. Server efficiency
III. Energy-efficient data center cooling
IV. Energy-efficient backup power and power distribution
V. Data center efficiency metrics and measurements
VI. Test your data center energy efficiency knowledge

I. The case for data center energy efficiency now
How to have the "green talk" with your executive team
Proposing green IT initiatives to your organization is challenging; the budget always trumps sustainability. But getting the executive team to see the economic benefits of sustainable computing will not only help the company, but also the environment.
SEC ruling could spur data center change
The SEC's newly clarified data center reporting requirements for climate change regulations could affect data center managers.
New federal data center energy-efficiency guidelines on tap
Industry groups and government agencies have collaborated on new Energy Star benchmarks and guidelines for data center energy efficiency.
Data center efficiency: Which tactics are worth the cost?
Find out which data center energy-efficiency moves can have a big impact on ROI and which tactics aren't worth the effort.
Five easy ways to improve your data center PUE
This podcast from expert Pitt Turner discusses how to improve power usage effectiveness in the data center.

Additional resources:
Will Energy Star servers give your business a positive ROI?
So you've purchased Energy Star servers or are weighing the pros and cons, but how do you calculate your ROI with so many variables to consider? This tip discusses how to measure cost savings from energy-efficient server technology.
Optimizing server energy efficiency
When looking to reduce server energy consumption in the data center, there are many factors to consider, including power supply, cooling, CPU and more. This tip discusses how to move beyond the server's nameplate to calculate – and ultimately improve – server efficiency.
How server consolidation benefits your data center
This tip discusses the benefits of server consolidation with virtualization, such as better computing efficiency and lower data center energy costs.
Chapter excerpt: Upgrading to energy-efficient servers
This chapter excerpt discusses the cost benefits of green data center initiatives such as server consolidation, replacing older servers, choosing energy-efficient power supplies and more.
Measuring server energy efficiency
Server energy efficiency is more important today than ever, but measuring it accurately requires the right tactics and tools. This tip outlines how to determine equipment efficiency in your data center.
EPA releases Energy Star server specification
In 2009, the Environmental Protection Agency released an Energy Star specification for two- and four-socket servers
Data center managers indifferent to Energy Star for servers
Company priorities and technologies such as virtualization make the demand for the EPA's Energy Star-rated servers unclear.
Additional resources:
III. Energy-efficient data center cooling
Data center cooling: Air-side and water-side economizers
Find out how you can save costs by cooling your data center with air-side or water-side economizers.
Air flow management strategies for efficient data center cooling
Strategies that improve data center air flow, such as hot-aisle/cold-aisle design and raised-floor tiles, help to reduce air flow waste and improve data center cooling efficiency.
Chiller optimization for data center infrastructure
In this tip series on chiller optimization in the data center, an expert delves into how to optimize cooling production, make the most of your cooling capacity, save costs and improve the energy-efficiency of your data center's cooling strategy.
Lowering data center cooling costs with airflow modeling and perforated raised-floor tiles
Don't waste your dollars on the wrong data center cooling strategy. Learn how to use tactics such as airflow modeling and perforated raised-floor tiles for a more energy-efficient data center.
United Parcel Service's green data center initiative
This two-part case study covers the United Parcel Service's green data center strategy, which included eliminating wasted cooling and taking advantage of water-side economizers.
Hot-aisle/cold-aisle containment slideshow
See what data centers for companies like eBay and Yahoo are doing with hot-aisle/cold-aisle containment in this slideshow.
Data center hot-aisle/cold-aisle containment how-tos
If you're considering a hot-aisle or cold-aisle containment strategy, these considerations will help determine if it's right for your data center.
Hot-aisle vs. cold-aisle containment: Liebert and APC face off
Experts from Liebert and APC take the hot-aisle vs. cold-aisle containment debate to this podcast, arguing for their respective strategies.
Cleaning under the raised-floor plenum: Data center maintenance basics
Get best practices and gotchas for data center raised-floor plenum cleaning and maintenance.
Block the holes that leak air from your facility
Many data centers lose a substantial amount of cold air from various openings in the facility. In this column, expert Robert McFarlane talks about how to stop cold air from escaping your data center.
Sizing computer room air conditioners for data center energy efficiency
There are many variables when selecting a computer room air conditioner (CRAC) for your data center. This tip discusses how to manage humidity, temperature and air flow and choose the right-sized CRAC for your facility.
Can CFD modeling save your data center?
Computational fluid dynamics (CFD) can diagnose data center airflow problems and help make data center cooling more efficient.
When best practices aren't: CFD analysis forces data center cooling redesign
Well-known data center best practices don't always work according to plan, as a Cisco data center manager discovered through a CFD analysis of his facility's hot-aisle/cold-aisle configuration.
Additional resources:
IV. Energy-efficient backup power and power distribution
Which data center power distribution voltage should you use?
This tip covers the best data center power voltage options to consider in your data center, as rising data center power density has forced many companies to re-examine power distribution choices.
DC power in the data center: A viable option?
Two energy industry officials debate the merits of AC vs. DC power in the data center. Advantages of DC power include lower maintenance costs, but the risks may not be worth the change from AC.
The value of DC power in data centers still in question
Can direct current power improve data center energy efficiency more than alternating current? The Green Grid and others in the industry are taking steps to find out whether the potential energy efficiency of DC outweigh its risks.
Does data center uptime affect energy efficiency?
An EPA case study shows that data center uptime has no correlation with its energy efficiency, despite the belief that uptime negatively impacts data center energy efficiency.
Data center flywheel gets thumbs-up from colo provider
This brief Q&A details why data center hosting company Terremark Worldwide uses flywheel-based uninterruptible power supply units over the widely used battery-based units.
Will a transformeress UPS work for your data center?
This tip compares the advantages and disadvantages of the transformerless UPS in the data center and whether it is the most energy-efficient option for your data center.
How to choose the right uninterruptible power supply for your data center
Find out how to understand uninterruptible power supply power ratings and choose the right size UPS for your data center.
Using flywheel power for data center uninterruptible power supply backup
This tip outlines the differences of flywheels over traditional storage batteries for data center uninterruptible power supply backup, as well as benefits like less space used, a longer lifespan, and more.
EPA developing Energy Star spec for uninterruptible power supplies
The EPA has developed framework for an Energy Star specification for uninterruptible power supplies, continuing its work into improving data center energy efficiency.
Additional resources:
V. Data center efficiency metrics and measurements
What is PUE?
Power usage effectiveness (PUE) measures the energy efficiency of a data center. See the full definition that details how to calculate PUE in your data center.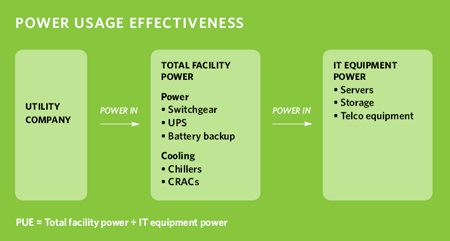 Green Grid hones PUE data center efficiency metric
At its annual forum, the Green Grid addressed topics including power usage effectiveness measurement tools and data center energy-efficiency strategies such as free cooling.
Measuring data center energy consumption in watts per logical image
With concerns that power usage effectiveness and data center infrastructure efficiency may not be accurate measures of data center energy efficiency, watts per logical unit has been proposed as an alternative, improved energy consumption metric.
IT wish list: Better ways to analyze data center environmental metrics
With data center energy consumption a major issue, IT managers are looking to gather environmental measurements and analyze that data center environmental data.
Measuring and reporting data center PUE
Companies are reporting their data center's energy efficiency with the power usage effectiveness metric for a competitive edge amongst other reasons, but without publicizing several factors that go into that PUE, the report might be incomplete.
In measuring data center power use, more (info) is more
A lack of awareness in companies of their data center power consumption is changing, as many companies are catching up with large data center operators such as Google and Microsoft in measuring power usage.
Using chargeback to reduce data center power consumption: Five steps
By using chargeback to reduce data center power consumption combined with power management in proper measuring, IT managers can save money.
The TPC Energy Specification: Energy consumption vs. performance and costs
The TPC Energy Specification aims to solve the issue of rising IT energy costs by comparing data center energy consumption, computing performance and price in relation to IT purchasing decisions.
Additional resources:
Test your data center energy efficiency knowledge
Take this quiz on data center energy-efficiency trends and see if you're up to speed on what it takes to save power and cut costs in your data center.
Dig Deeper on Data center design and facilities
PRO+
Content
Find more PRO+ content and other member only offers, here.