Data center disaster recovery planning
A solid disaster recovery and business continuity strategy is crucial to protecting your organization's future in the event of a natural disaster or other emergency that causes downtime. In this guide, we've compiled our best resources to ensure that your disaster recovery (DR) plan is complete, up to date and appropriate for your company's needs.
A solid disaster recovery strategy is crucial to protecting your organization's future in the event of a natural disaster or other emergency that causes downtime. In this guide, we've compiled our best resources to ensure that your disaster recovery (DR) plan is complete, up to date and appropriate for your company's needs. First, we cover the basics of disaster recovery planning and testing, with expert advice on planning tools, meeting...
Continue Reading This Article
Enjoy this article as well as all of our content, including E-Guides, news, tips and more.
By submitting you agree to receive email communications from TechTarget and its partners. Privacy Policy Terms of Use.

your recovery time objectives, incorporating change management and DR, and more. Next, we delve into the specifics of disaster recovery planning, including site selection, colocation facilities, DR consultants and the latest backup technologies. Finally, we cover the growing trend of incorporating virtualization into disaster recovery and business continuity planning.
I. Disaster recovery planning basics
A guide to planning and controlling your disaster recovery budget
Who should have a hand in your data recovery planning? How should you formulate your budget? This guide answers these planning questions, and features an IT DR budget template.
Ten things that must be included in IT disaster recovery plans
These ten items will pay dividends for your disaster recovery plan.
IT disaster recovery (DR) planning: A guide on developing and refining your DR plan
This is an essential overview of disaster recovery planning, and maintaining plans down the line.
IT disaster recovery (DR) plan template: A free download and sample plan
Download a free sample DR plan, courtesy of SearchDisasterRecovery.com.
Disaster recovery site options
Having many sites for IT operations is important to any disaster recovery plan. This tip outlines hot, warm, cold and mobile sites.
Make IT change management part of your disaster recovery plan
Improving IT process maturity by implementing the IT Infrasturcture LIbrary (ITIL) and change management strategies can help prevent data center downtime. But taking shortcuts and skipping steps are common causes of data center disasters.
Five steps to a business impact analysis in disaster recovery planning: BIA 101
A business impact analysis in your DR plan is essential. Follow these five tips for a better analysis.
Leveraging cloud computing for disaster recovery purposes
Cloud computing will help with disaster recovery – find out what to look for before using it in your plan.
Data center disaster recovery considerations checklist
There are many factors to take into consideration before your disaster recovery plan can be successfully implemented. DR expert Bill Peldzus offers a checklist to ensure your organization's bases are covered.
Disaster recovery plan design and optimization strategies
Streamline your disaster recovery planning strategy with this DR tutorial, which includes in-depth case studies and success stories.
Using information lifecycle management for mainframe disaster recovery
Learn more about information lifecycle management (ILM) for a mainframe data recovery environment, and its many benefits, including less storage, faster backup and recovery, and how it can cut costs.
Data growth: The worst enemy of your recovery time objective
Data growth can render your current DR plan ineffective and prevent you from meeting recovery time objectives (RTOs). Get a handle on your RTOs with better data management policies and technologies like data deduplication and storage tiering.
Disaster recovery planning tools: Are they worth it?
Your organization's size, level of complexity and level of staff training determines whether disaster recovery planning tools are worth the price.
How many data centers are sufficient for disaster recovery? Two, three, or more?
IT departments are facing pressure to reduce costs and increase efficiency while at the same time ensure disaster preparedness. By performing an business impact analysis that determines recovery time and recovery point objectives, you can determine how many data centers are necessary for your DR plan.
Top disaster recovery budget wasters
Is your organization's disaster recovery plan eating up your budget? An expert discusses common DR budget wasters, incluing failure to maintain the plan, not deploying virtualization, lack of CEO involvement and more.
II. Disaster recovery testing
Evaluating your disaster recovery program's maturity level
Even if your company has a data recovery plan in place, it still might not be mature enough. See how you can test its maturity.
Disaster recovery essentials: E-Guide on DR planning and testing strategies
Are there holes in your data recovery plan? How should the plan be tested? This e-guide helps with the fine tuning and testing of your plan.
Creating a disaster recovery plan is just the first step
A plan that stays current with the times will need all company management on board for its success.
Is your disaster recovery plan out of date?
If your DR plan is merely an afterthought, it will become out of date quickly. To stay current, tie your plan to your configuration management process, test regularly and track your RTO trends.
Achieving cost-effective disaster recovery testing and planning: Nine areas where you can cut costs
DR isn't impossible because of the cost. These are some ideas for disaster recovery planning and testing that won't break your IT budget.
Disaster recovery plans require relentless testing, documentation, says expert
Disaster recovery expert Kelley Okolita helped Hanover Insurance Group develop an airtight DR plan through extensive documentation, testing and employee training.
Ten reasons why your DR plan could be in trouble
Are your disaster recovery goals realisitc? Have you tested it end to end? Is the entire business invested in the plan, or just IT? These are just a few factors that can make or break your DR plan.
American Fidelity shows how disaster recovery testing gets done
In this interview we talk with Phil Larson of American Fidelity Assurance Company about how the organization formed its disaster recovery and business continuity strategy, which involves comprehensive testing twice a year, on a tight budget.
III. Working with disaster recovery service providers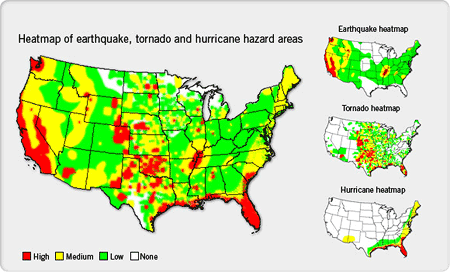 Used with permission, Pingdom
Using carrier colocation in your data center disaster recovery plan
Using carrier colocation for disaster recovery offers many benefits, including well-hardened facilities, strategic locations, efficient means of communication and quick response times. In this tip, a DR expert discusses how one colocation company survived a serious disaster and how investing in carrier colcation can be a smart move for your organization.
Business continuity planning consultants: Are they worth the money?
If your organization lacks staff members with sufficient experience in business continuity planning (BCP), you need to hire an outside BCP consultancy firm. However, not all BCP firms are created equal. Our expert outlines what you should look for to ensure that you hire the right firm to fit your business needs.
Disaster recovery strategies: Should you outsource, manage in-house or partner?
When selecting your disaster recovery site, you can choose to do it yourself, collaborate with another organization or outsource your plan to a DR provide such as SunGard.
Disaster recovery sites: How to choose the correct location
There's no one-size-fits-all answer to choosing how close to place an alternative data center site. An expert reccomends carefully evaluating your disaster risk, documenting how a potential site coincides with your business needs and ensuring that the decision makers have all the facts to take into consideration.
IV. DR backup and replication technologies
Tape library trends for disaster recovery
A tape library system is key to a strong data center disaster recovery plan and can be a cost-effective recovery option. An expert discusses the latest tape library trends in this tip.
The role of tape in disaster recovery
Despite the increased popularity of other forms of data backup, tape backup still has a valuable place in a disaster recovery plan. In this interview, also available as and MP3, an expert answers common questions about tape backup and DR.
Disaster recovery replication FAQ
Many data centers are addressing tighter RTOs with replication technologies. W. Curtis Preston, Vice President of Data Protection Services at GlassHouse Technologies, answers frequently asked questions about replication in a disaster recovery plan.
Data backup and recovery technology tutorials
Learn all you need to know about backup and recovery technologies, including tape libraries, disk backup, cloud services, data deduplication and more, with these tutorials.
V. Disaster recovery and virtualization
The role of virtualization in data center disaster recovery
You're likely already using virtualization somewhere in your data center. But did you know that virtualization technology can also be a solid addition to your disaster recovery and business continuity plan? An expert discusses the DR benefits that virtualization can bring to the table, including quicker recovery time, easier recovery at a DR site with virtual machine disk formats and more.
Avoiding disaster recovery pitfalls in VMware and Linux: Rejecting default settings
If your data center runs Linux in a VMware environment, it's important to plan for your specific business needs and not simply accept the default settings, which are designed for the simplest scenarios. By changing the default settings according to your system's requirements, you can avoid disaster recovery complications.
How server virtualization benefits disaster recovery
Business continuity expert Paul Kirvan discusses which server virtualization technologies are best for DR as well as how they can improve recovery times, help with failover and more.
Developing a disaster recovery plan for virtual machines: A tutorial
This tutorial covers how to implement virtual machine disaster recovery, including VMware Site Recovery Manager, geoclustering and SAN replication.
Using P2V backup and restore in a disaster recovery strategy
A physical-to-virtual disaster recovery plan can take advantage of physical servers that aren't good candidates for virtualization and potentially save the day in the event of a disaster. In this tip, an expert explains how to schedule regular P2V conversions of "bad apple" physical servers and discusses the tools needed for the process.
Matt Stansberry is SearchDataCenter.com's senior site editor. Write to him about your data center concerns at mstansberry@techtarget.com. And check out our Data center facilities pro blog.
Dig deeper on Data Center Disaster Recovery