Evaluate
Weigh the pros and cons of technologies, products and projects you are considering.
DC Pro: a breakdown of a data center efficiency tool
Here is a step-by-step guide on how to navigate DC Pro, a new online tool by the U.S. Department of Energy meant to help data centers determine their energy efficiency.
Earlier this year we wrote about DC Pro, a U.S. Department of Energy tool that data centers would be able to use...
Continue Reading This Article
Enjoy this article as well as all of our content, including E-Guides, news, tips and more.
By submitting your personal information, you agree that TechTarget and its partners may contact you regarding relevant content, products and special offers.
You also agree that your personal information may be transferred and processed in the United States, and that you have read and agree to the Terms of Use and the Privacy Policy.
to determine their facility's energy efficiency. Now the beta version of the tool is out, and we're here to take a close look at how it all works.
First of all, before you even start running the DC Pro software, you'll want to sit down for a meeting that includes IT and facilities personnel, and possibly some executives as well. The tool asks dozens of detailed questions about energy sources and costs, and rather than going back and forth to the tool, it might be best to just have all the info when you first go there. The DOE provides a DC Pro checklist that can help you out (thanks to a blog post from Ken Oestreich at Cassatt for the link). And you can read the following to see some sample questions and how the tool works.
The first thing you'll see is a welcoming screen, and you'll have to register with the site to start entering some basic information like this: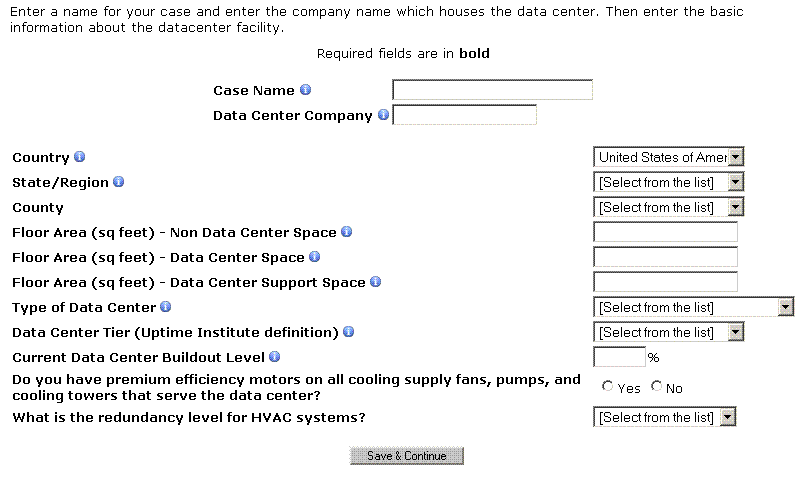 Click image for larger version
DC Pro will then take you to a screen that begins to dissect your data center energy use under eight tabs. The tabs include "Energy Management," "IT Equipment," "Environmental Conditions," "Air Management," "Cooling Plant," IT Equipment Power Chain," "Lighting," and "Default Breakouts." Some questions you'll be asked include:
Are the cable penetrations sealed? (Air Management)
What type of lamps are used? (Lighting)
Are there procedures and personnel/cable grounding equipment to prevent (electrostatic discharge)? (Environmental Conditions)
Is there a written energy management plan? (Energy Management)
Other questions can be seen in the pictures below for the "Energy Management," "IT Equipment," and "IT Equipment Power Chain" tabs.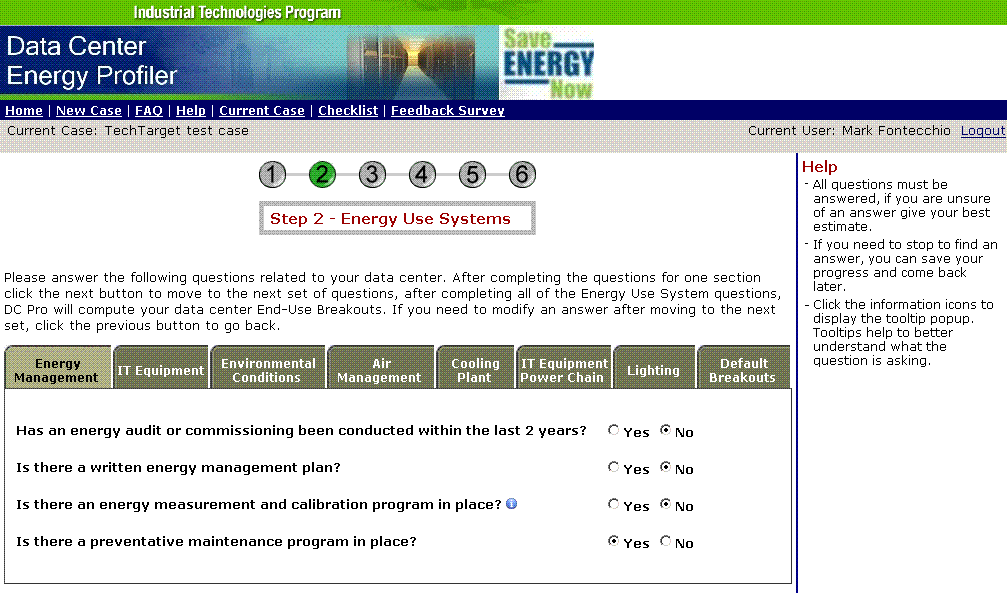 Click image for larger version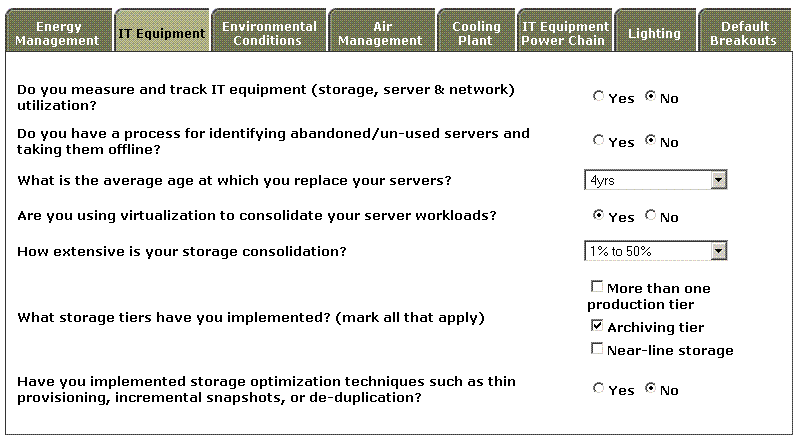 Click image for larger version


Click image for larger version
Step 3 is "Production Information," an optional step that you can use to fill in if you're looking to measure, for yourself, some kind of production per watt. It doesn't factor into your final PUE/DCiE number.
The next step is to enter your supplied energy. It's another optional step, but DC Pro says it's helpful if you have this information; otherwise, the software will use default figures culled from the step about energy use. Here's a picture: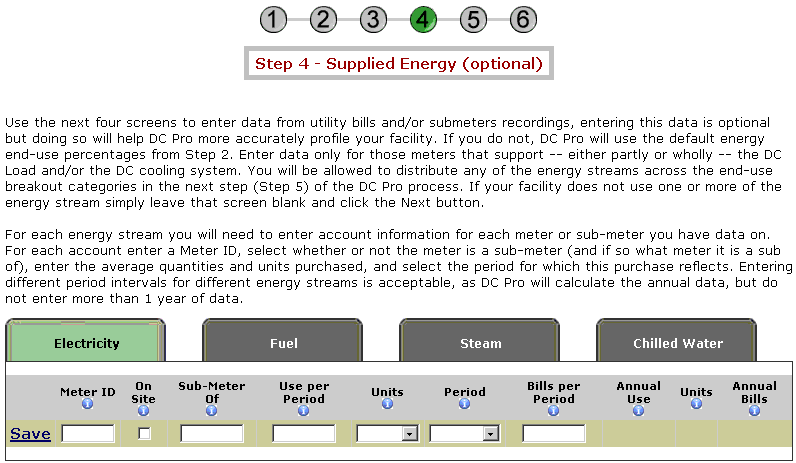 Click image for larger version
The final step is "Energy Use Distribution," another optional step where, if you know them, you can enter all your loads for electricity in kilowatt-hours per year, fuel in millions of BTUs per year, steam in millions of BTUs per year, and chilled water in millions of BTUs per year. To get the most accurate information, you will want to try to fill in the information for this step and the prior one for supplied energy. If you don't, DC Pro will use defaults garnered from Step 2. Here's a picture of the final step: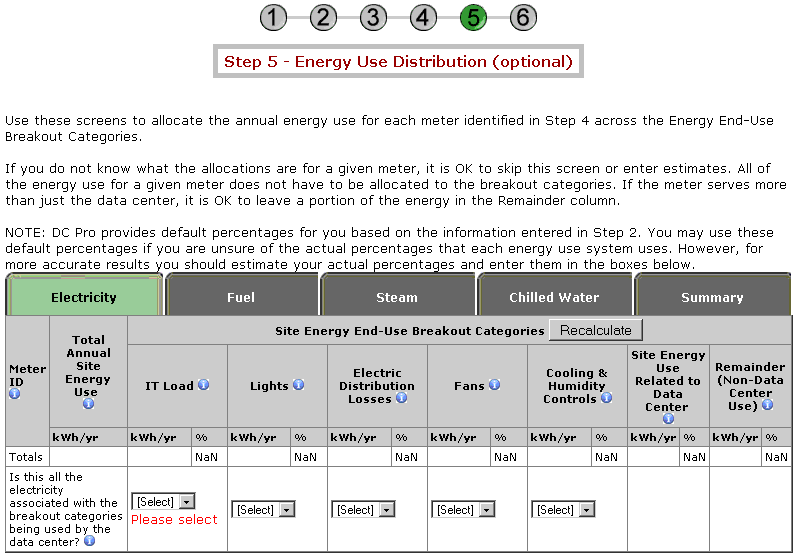 Click image for larger version
And then you're done. The next step gives you your results, breaking it down into case information, annual energy use, potential annual energy savings, potential annual carbon dioxide (CO2) savings, and suggested next steps. If you can take the time to answer all the questions as accurately as possible, this is your reward, and hopefully you'll find that it's worth it.
Let us know what you think about the story; email Mark Fontecchio, News Writer. You can also check out our blog, Data center facilities pro.
More on data center power consumption and savings:
DOE's new data center energy-efficiency tool on cusp of release
Measuring server energy efficiency
Hot-aisle/cold-aisle containment and plenum strategies go big-time

Dig Deeper on Data center design and facilities
PRO+
Content
Find more PRO+ content and other member only offers, here.