Data center infrastructure
Silver Award:
HP Intelligent Power Distribution Unit (iPDU)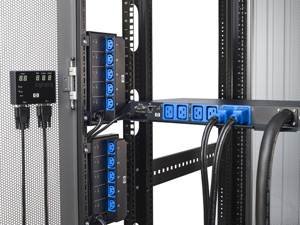 Power distribution and measurement
Hewlett-Packard (HP) Co.'s iPDU might be considered another contributor to data overload were it not for its innovative integration with HP's ProLiant server line and its unusual flexibility. If you're going to do the kind of sophisticated monitoring advocated by The Green Grid, your product must include server-level data. Unfortunately, the Intelligent Power Discovery feature of the iPDU is limited to HP servers. But I think this product is the forerunner of things to come in data center energy management.
Close runner-ups
I'm always glad to see innovation from Server Technology Inc. The company tried to get over the power distribution unit (PDU) terminology confusion by calling its in-cabinet Power Strips "cabinet distribution units," or CDUs. Unfortunately, it's become proprietary and hasn't caught on. Too bad! The company has put a wide range of very useful products on the market, but I'm not sure that its new per inlet (in-feed) power-sensing (PIPS) Smart CDU feature is really that important to most of the IT industry. 
Although granular monitoring of power usage is currently being advocated, until there are products that can turn data overload into information that's truly useful to data center managers, I'm not convinced that power strips like Server Tech's are really useful, or that their additional cost can be justified.
Power Busway is a very flexible way to distribute data center power, and several manufacturers have taken what was originally an industrial product and tailored it to the different needs of the data center. Power Distribution Inc.'s new Powerwave Bus System is similar to Server Tech's PIPS CDU and allows monitoring at the "tap-off" level. Whether this is really useful depends on your needs, but with the monitoring capabilities from other products on the market, I find the value of these additional data points questionable, and see this product as pretty much another high-quality bus system.