LAS VEGAS -- Check out SearchDataCenter.com's coverage of Gartner's 2010 Data Center Conference, including the latest info on data center infrastructure and cloud computing, unified computing, and more.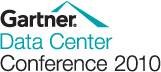 TOP STORY
Server refresh cycles may get longer
Some data center managers are extending the period between server refreshes as a result of a lackluster economy and the increasing popularity of virtualization. Attendees of the Gartner Data Center Conference had mixed reactions to trying longer server refresh cycles, citing conflicts with business processes as a main hindrance.

See coverage from the 2009 Data Center Conference.

Logo image courtesy of Gartner, Inc.
This was first published in December 2010