News
Stay informed about the latest enterprise technology news and product updates.
IT management less time-consuming, security concerns grow
While virtualization, networking, IT management, and backup and storage remained in the top-five list of IT tasks again this year, another area crept up the list.
FROM THE ESSENTIAL GUIDE:
IT management tasks took less of systems administrators' time in 2015 as they turn their attention to other areas...
Continue Reading This Article
Enjoy this article as well as all of our content, including E-Guides, news, tips and more.
By submitting your personal information, you agree that TechTarget and its partners may contact you regarding relevant content, products and special offers.
You also agree that your personal information may be transferred and processed in the United States, and that you have read and agree to the Terms of Use and the Privacy Policy.
of the data center.
Networking, virtualization, IT management, and storage and backup ranked as the top four most time-consuming technology areas in TechTarget's 2015 survey,* followed by security.
Among IT pros who said they spend most of their time on server management, virtualization held strong at 25% from 2014 to 2015, as it continues to ensure flexible, cost-effective infrastructure and easy deployment of applications and servers.
"We have a couple of physical servers left for legacy applications," said Ross Eberle, a technical support supervisor for the Rockford School District in Illinois.
The rest of their servers, 95%, are virtualized. More virtualization means more storage and more backups.
"Over the course of a few years, storage has grown immensely," Eberle said.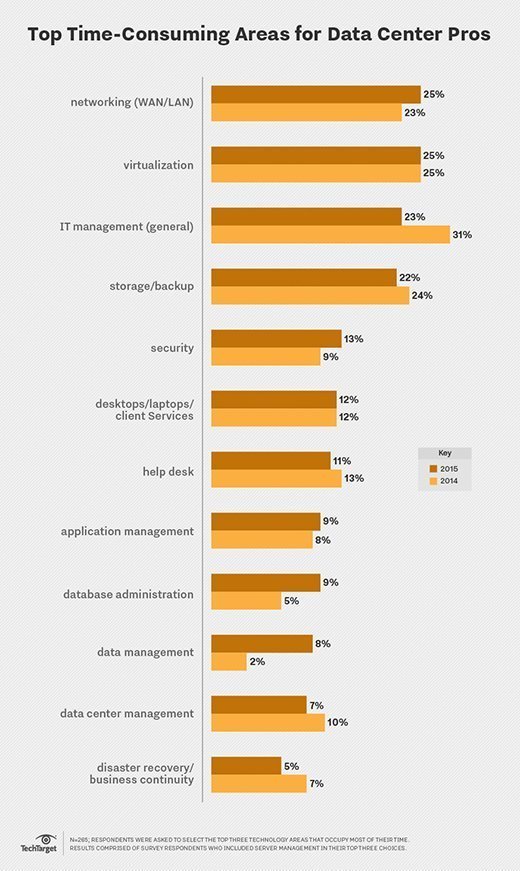 You would think, then, that backups would take up more time. However, the TechTarget survey showed that storage and backup takes up less time than it used to, dropping from the third biggest time consumer in 2014 to the fourth this year. Eberle credits new, more capable software that eases backup management.
"When the storage increased, the backup time increased as well because there is more data, so we have to do more with it," Eberle said. "Although, in the last year or so, backup has taken less of our time because we migrated to a [newer] product."
Data centers seek 'techno-functional' IT pros
The survey results coincide with the growing need for IT teams to have broader skills. IT has become integral to the business with a smaller budget. To be successful, employees must switch between several different roles in a given day.
Businesses look for versatile people who are "techno-functional," said Daniel Lozovsky, a senior business IT manager and technical architect for AT&T Mobility based in Seattle.
[IT] roles are being redefined and they are fluid. It requires masters of a very strong technical kind of skill to operate in infrastructure or development.

Daniel Lozovskya senior business IT manager and technical architect for AT&T Mobility
"[IT] roles are being redefined and they are fluid," Lozovsky said. "It requires masters of a very strong technical kind of skill to operate in infrastructure or development."
IT management dropped 8% from 2014 to 2015, bringing it from first to third on the respondent's list of tasks that occupy their time. However, this decrease actually equalizes it with networking, virtualization, and storage and backup. In fact, Lozovsky claimed IT management will continue to be integral as more IT jobs are outsourced.
"We spend less time hiring employees and more time dealing with outsourcing companies ... whether it's India or somewhere in Eastern Europe," Lozovsky said.
"There will be more emphasis on leadership ... and strategic planning and thinking," he added.
While he doesn't manage remote IT teams like Lozovsky, Eberle agreed that coaching IT teams and designing workflows for new initiatives consumes the majority of his day.
The newest entrant into the top five this year is security, up from eighth place in 2014. This was expected, as major data breaches from the past few years have caused security to rank as the top area to focus on two years in a row in the annual TechTarget survey.
*Editor's note: This report was created from findings of TechTarget's 2015 Annual Salary and Careers Survey, an online survey of 1,783 IT professionals in North America, fielded from June to September 2015. Sample sizes may vary by individual question, depending on previous responses or exclusion of errors or outlier data. The 265 data center-related respondents selected server management as one of the top-three areas that occupy their time. They were allowed to choose three options in response to what they considered the top technology areas that occupy most of your time.
PRO+
Content
Find more PRO+ content and other member only offers, here.