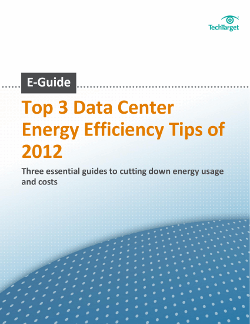 Top Tips of 2012: Data Center Energy Efficiency and Energy Management
Energy consumption and efficiency might not be the sexiest of IT issues, with the neverending buzz around cloud computing and consumerization. But with new energy standards coming into play, and the fact that many data centers are operating near or at capacity, reducing power consumption and dealing with these constraints is becoming unavoidable. 
Explore this exclusive guide that details the top data center energy consumption tips from the past year, including:
-- The realities of PUE and PUE 2
-- Five questions on data center environmental monitoring
-- An introduction to the ARM server
Get up to speed on the must-know data center energy issues so you can optimize your organization's energy strategy in 2013.
This was first published in February 2013