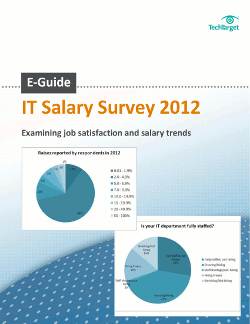 2012 IT Salary Survey: Are you getting paid enough?
Much of what is published in year-end reports of job prospects, employee satisfaction, and salary information doesn't specifically analyze the IT niche. Luckily, that's exactly what we've done with our 2012 IT Salary Survey that collected responses from 2,277 of your peers across all industries and company sizes.
Explore this exclusive, information-packed IT salary guide and receive access to the following resources that aggregate and analyze the results of that survey:
-- Gap among industries in average salary for senior IT is considerable
-- Job satisfaction: Why senior IT leaders stay and why they go
-- Salary statistics reveal modest growth in IT sector in 2012
How does your salary/job satisfaction level compare to your peers'? Find out inside this essential report.
This was first published in December 2012