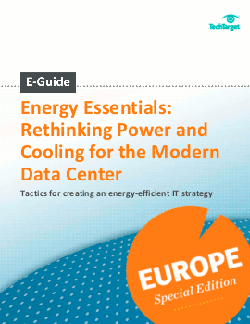 E-Guide: A Need for More Energy Conscious IT 
While energy efficiency is a top priority for European IT professionals investing in data center technologies in 2013, only 21 % of European IT managers have taken action to meet the European Commissions' 20-20-20 Renewable Energy directive. 
Although the time frame for implementing these government objectives remains distant, there is a sizable gap in awareness and understanding that needs to be resolved today – to ensure proper planning and preparation for the future. 
Luckily, our experts have compiled a comprehensive guide that details the latest tactics for creating an energy-efficient IT strategy. Gain advice to help European IT professionals – like you – better understand and handle concerns related to troubleshooting, capacity planning, power and cooling, provisioning and configuring the modern data center. 
Available now for download on the right hand side of this page, this guide covers: 
    • New data center cooling strategies 
    • 5 questions on environmental monitoring 
    • An introduction to the ARM server 
    • The realities of PUE and PUE v2
This was first published in October 2013