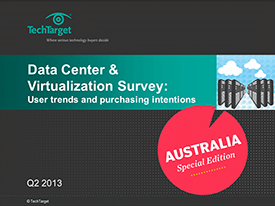 According to recent survey results, 
 90% of your peers are still increasing 
 their virtualization footprint.
Access the results from the 2013 Data Center and Virtualization Reader's Choice Survey for IT organizations based in Australia
It may be true that the cloud is dynamically shifting today's IT priorities – but this doesn't mean an end for virtualization and hardware investments. 
In fact, what the editors of SearchDatacenter.com discovered in a recent survey of IT managers based in Australia – on topics such as the adoption of cloud computing, the prevalence of virtual machines, the most useful features/updates of physical servers and the viability of converged infrastructure – might just surprise you. 
Download this special report to find out about your peers' recent data center successes and their plans for their environment in 2014.
This was first published in September 2013