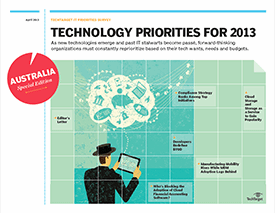 Access the Australian Results from an IT Priorities Survey for 2013
If aggressive vendor cloudwashing and an overwhelming influx of consumer devices into enterprise IT environments have you believing that each will soon change the face of the IT industry in Australia and beyond – you might be surprised at the infrastructure, software and security projects your peers are taking on in 2013. 
In a recent survey of IT managers based in Australia, only 35 % of respondents forecasted an increase in spending on cloud services this year. 
What else did these results uncover? 
     • Economic conditions for IT in Australia 
     • Major infrastructure and mobility projects for 2013 
     • Key opportunities for the in Australian IT industry 
     • And much more. 
After registering and comparing your own initiatives with those of your peers in Australia, you'll also have access to the complete worldwide results.
This was first published in August 2013