Server form factors: A guide to rackmount, blade servers and more
Here are some tips to help you understand rackmount and blade server roles, and the microserver form factor, and decide which is right for your tasks.
Introduction
Budget constraints, reliability concerns and changing technologies present a myriad of options for new servers. Weigh the pros and cons of rackmount servers versus blade and microservers.
This guide to understanding server form factors can help cut through the hype and let IT professionals find the system that fits their needs and budget.
1

Rackmount servers here to stay

-
Rackmount servers: Traditional and larger form factors
While blade servers are gaining popularity, traditional rackmount servers remain the basic building blocks for today's data center. IT professionals turn to these servers to handle a variety of workloads.
2

The benefit of blades

-
Blade servers: Big on computing power, small in size
Blade servers add computing power for demanding workloads without the bulk and cost of larger server form factors. Blade servers offer distinct advantages for some applications, including Web hosting and virtualization. But the very properties that make blades attractive to IT pros also generate their own set of challenges.

Download this free guide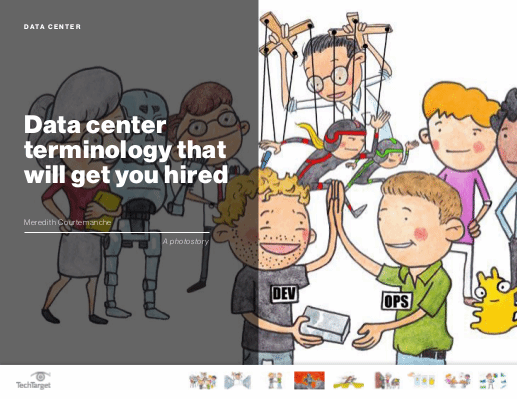 Download: Data center terminology that will get you hired
When it comes to data center job interviews, rattling off common DevOps and automation terms won't get you far – you must establish your knowledge of IT infrastructure scalability and resiliency, as well as culture and business to really impress. Download this COMPLIMENTARY Data Center Terminology guide to learn how to ace your next interview.
By submitting your email address, you agree to receive emails regarding relevant topic offers from TechTarget and its partners. You can withdraw your consent at any time. Contact TechTarget at 275 Grove Street, Newton, MA.
You also agree that your personal information may be transferred and processed in the United States, and that you have read and agree to the Terms of Use and the Privacy Policy.

3

Go micro

-
Small microservers are a large chunk of the market
The microserver market is expanding -- thanks to scalability, simplicity and more. See how these small servers are shaking up the data center.
4

Server stuff

-
Important server lingo
With all of the available server options, you need to speak the language to get the right systems. Here is a list of important definitions that will give you further insight into your purchasing decisions.