Get started
Bring yourself up to speed with our introductory content.
The evolution of data center storage architecture
Changes in the data center storage architecture are at the forefront of how IT infrastructure evolves to tackle emerging workloads and handle new applications.
Introduction
Big data and other new applications push forward advances in data center storage architecture, from hyper-converged infrastructure and server-side storage to data-awareness built into arrays.
This guide explores which technologies move storage in the data center forward, the ways in which storage is evolving, and how these evolutions affect enterprises.
1

HCI pushes storage changes

-
The converged and hyper-converged effect on storage
Converged and hyper-converged infrastructure needs have pushed the limits of data center storage architecture. Find out how it advanced.
2

Glossary

-
Data center storage architecture terms
Don't let data center storage terminology trip you up. Reference these definitions to glean a better understanding of data center storage architecture.

Download this free guide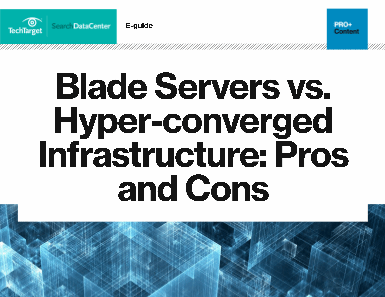 Blade Servers vs. Hyper-converged Infrastructure: Pros and Cons
Is the change to hyper-converged infrastructure really necessary when the same effect can be achieve with blade servers? Download this PDF for a comparison of the benefits of both hyper-converged infrastructures and blade servers, and the risks associated with both.
By submitting your personal information, you agree that TechTarget and its partners may contact you regarding relevant content, products and special offers.
You also agree that your personal information may be transferred and processed in the United States, and that you have read and agree to the Terms of Use and the Privacy Policy.
3

Storage becomes self-aware

-
Make storage data-aware for intelligent Ops
Data-aware storage replaces regular storage arrays to manage and organize data automatically and efficiently. This awareness aids performance for the IT team, as well as for the business end users that rely on stored information.
4

What's replacing OG storage?

-
SSDs, object storage and increased flash resiliency
Innovations in storage pushed the technology to new standards for reliability, cost and speed. What type of storage, how much to buy and from whom, and how it changes your current data center storage architecture are all questions tackled below.
5

Big data and IoT

-
A shakeup in storage architectures for big data, IoT
The Internet of Things (IoT) and big data are already changing data center storage architectures to match their demands. See how varied and rapidly growing data sets influence data center and cloud storage choices.