It shouldn't come as any surprise that we see incredible increases in computing power entering the data center. New servers are packing more cores and memory into smaller form factors. But, we're also seeing equally impressive improvements in other areas of computing hardware. New switches are solving I/O problems arising from virtualization, and new storage technologies are improving speed and availability. These products can enable unprecedented computing capability and facilitate workload growth to degrees that may have been unimaginable just a couple of years ago.
For the purposes of this year's awards, the computing hardware category includes all server-class computer hardware in any configuration and delivered in any form factor including rack and blade. This category also includes related computing hardware such as networking and storage systems as well as integrated infrastructure suites.
Gold
Hewlett-Packard Co. ProLiant DL980 G7

With the DL980 G7, administrators are given an innovative server product with amazing performance for the price point, and it has captured the Gold computing hardware Product of the Year award for 2011.
The machine comes with the PREMA Architecture, which helps deliver very balanced scaling. This is particularly important in data centers focused on proper resource utilization. The DL980 G7 also offers self-healing resiliency and a level of efficiency needed to overcome the challenges of today's most demanding x86 compute environments. With the computing power available at the backbone, scaling and deploying new workloads on this server is a simple task, done with confidence.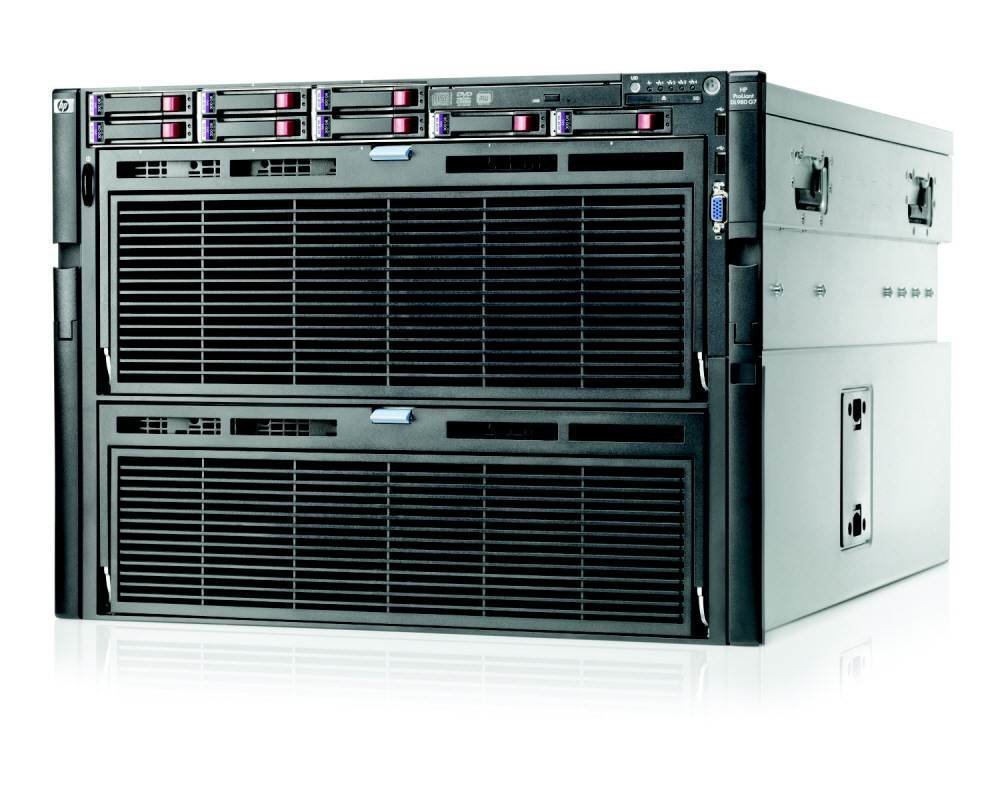 Upgraded from last year, the price of the server becomes even more justifiable when its capabilities are examined. Enhancements include smart CPU caching technology, which improves CPU utilization and performance; self-healing resiliency, which maximizes application uptime; Intel Xeon E7-4800 and 7500 series processors with up to 10 cores per processor; expandable eight-socket server configurable with up to 80 processor cores; 128 DIMM slots, for a system maximum of 2 TB of memory (using 16 GB DIMMs) and up to 16 I/O slots to support the most I/O-intensive applications.
Converged infrastructures are an emerging variation of server computing technologies. Where many organizations had to consider blade servers to achieve the type of throughput and performance they required, the DL980 G7 can still offer high throughput and performance without switching to blades. Many administrators are using this server as a core infrastructure component, helping them maximize efficiency while still reducing their hardware footprint. The easy-to-use management tools available from HP make this box easy to administer and highly scalable.
With many environments wanting to consolidate and better utilize their resources, users are turning to servers like the ProLiant DL980 G7 to achieve their goals.
Silver
Brocade VDX 6720 Data Center Switch

The expansion and virtualization of a data center requires a strong network connection within the environment. With poor throughput to the workloads, user performance degrades causing outages, upset end-users and sometimes wasted dollars on Band-Aid solutions. But the Brocade VDX 6720 addresses many of these concerns and has earned the Silver computing hardware Product of the Year award for 2011.
The built-in fabric technology on the VDX 6720 makes this device a powerful addition to any growing data center. Brocade VCS Fabric technology enables organizations to build data center Ethernet fabrics, revolutionizing the design of Layer 2 networks and providing an intelligent foundation for cloud-optimized data centers. The Brocade VDX 6720 can be easily deployed in VCS fabric mode with an add-on software license.

The feature set on these switches is very attractive as well. They come in two different models: a 2U Brocade VDX 6720-60 with 60 10 GbE LAN ports and a 1U Brocade VDX 6720-24 with 24 10 GbE LAN ports. Both models provide Ethernet storage connectivity for Fibre Channel over Ethernet, iSCSI and network-attached storage platforms. Aside from storage connectivity, the VCS Fabric technology allows seamless and efficient integration with their virtual environment.
The Brocade core switch offers unique features to support virtualized server and storage environments. For example, during a VM migration, network switch ports must be dynamically configured to ensure that the VM traffic experiences consistent policies and configurations. The Brocade Automatic Migration of Port Profiles (AMPP) feature enables a seamless migration. Port profiles and MAC address mapping are created on any switch in the fabric. This mapping provides the logical flow for traffic from the source port to the destination port. As a VM migrates, the destination port in the fabric learns of the MAC move and automatically activates the port profile configuration.
Ultimately, the Brocade VDX 6720 delivers innovative technology to enhance and simplify networks. It also offers a rich set of Layer 2 features, making the Brocade VDX 6720 an ideal platform for traditional top-of-rack switch deployments – and putting the switch near the top of any enterprise data center's wish list.
Bronze
Violin Memory Inc. 6000 Flash Memory Array

The Violin 6000 Series flash memory arrays bring storage performance in balance with high speed computing. This appliance, in conjunction with its networking capabilities, offers a significant opportunity for infrastructure consolidation and is a worthy winner of the Bronze computing hardware Product of the Year award for 2011.
A single Violin 6000 system fits in 3U of rack space and can deliver one million IOPS with 4 GB/sec of bandwidth – enough performance to replace multiple racks of traditional disk array. The arrays attach to the network for shared primary storage, and multiple arrays can be clustered together to achieve petabytes of capacity with high aggregate bandwidth.
The appliance gives IT engineers the option of using this storage as a primary or secondary resource. With the available feature set and high availability, this device is ready for enterprise deployment. Key availability features include fully redundant components (so there is no single point of failure), each of the elements are hot swappable, the unit sports active/active vRAID controllers, spare memory modules (fail-in-place) and system-wide wear leveling to maximize the working life of flash memory devices.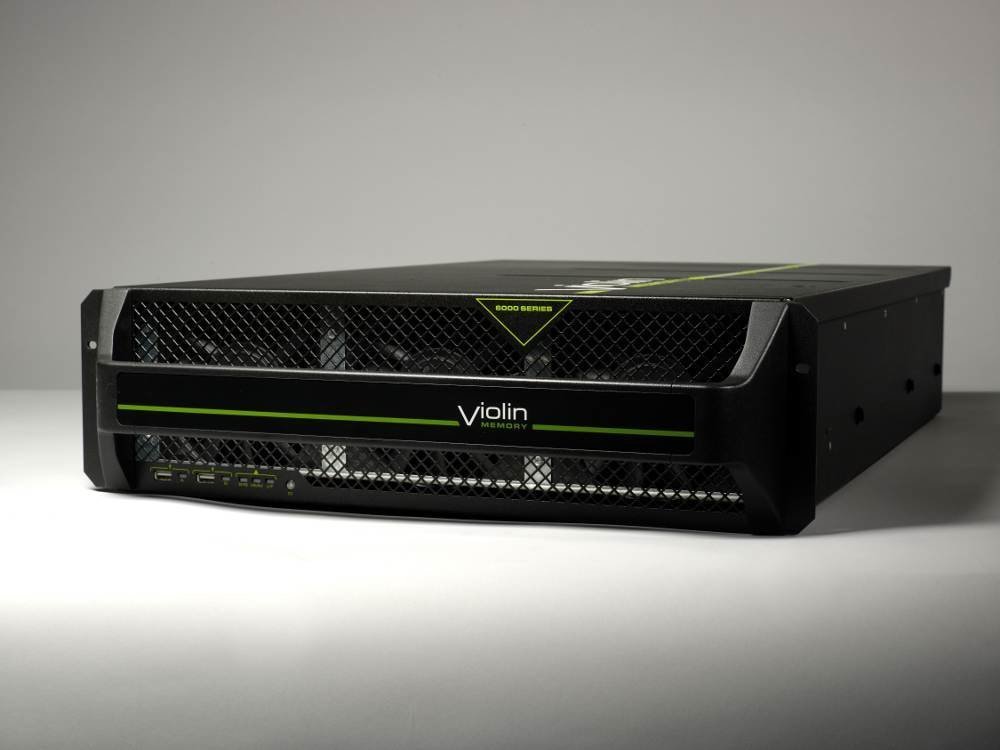 Violin memory arrays deliver spike-free low-latency and balanced read/write performance. Flash-optimized vRAID stripes data across multiple memory modules for parallel access and reduces latency with non-blocking erases.
The Violin 6000 Array includes three core technologies, which make it a powerful back-end storage device. vSHARE software runs on one or more memory gateways (internal or external to the memory array). This virtualizes the flash memory and provides dynamic logical unit number management. It also provides high performance active/active multipath connectivity, block storage functions and supports Fibre Channel and iSCSI protocols. vRAID ensures sustained performance and stripes data in a 4D + 1P model that is 80% efficient and protects data in the event of block, chip or VIMM failure. And vCLUSTER provides an integrated view of multiple memory arrays from the Violin Web-based management interface. System management is also provided via standard IP tools, such as Secure Socket Shell and email call-home. An extensible markup language API is used for cloud scale operations.
Each of these features are controlled through an intuitive Web management interface allowing administrators to manage and monitor all aspects of the Violin Array, including alerts and alarms, temperature, space considerations, logging and other system functions. The 6000 is an impressive advancement in high-performance data center storage.