Colocated data centers uncut: Avoid these costly errors
When it comes to colocated data centers, what you don't know can cost you.
Introduction
Expansion and rebuilds are pricey, and when your budget can't handle the expenses, colocate. Although colocating your data center involves a lot of planning and research, this essential guide points you in the right direction. You'll find out what to expect, what to inspect and what to avoid.
1

Ask a colo

-
Experts weigh in on colocation questions
Choosing the right colocation provider can be a daunting task, but with tips from colo experts, the decision will be pain-free. Experts answered our questions about everything colocation -- from providers to pricing -- and make you ask yourself, "Is this right for me?"
2

How do I choose?

-
Selecting a colocation facility
Colocation services are intended to aid expanding data centers, but sometimes choosing the right provider can be stressful. Learning how to make the right decision and what to expect is imperative for a satisfying, long-lasting colocation relationship.

Download this free guide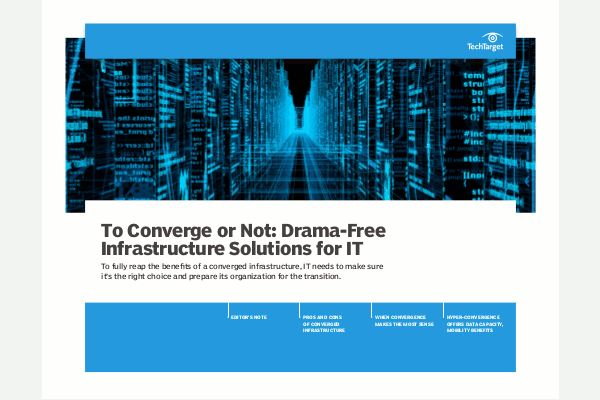 How to fully reap the benefits of a converged infrastructure
Inside this essential guide, discover a detailed breakdown of the pros and cons of converged infrastructure, its top use cases, and the steps to take to prepare your existing infrastructure for the transition. Also, learn about hyper-convergence and how it differs from converged infrastructure.
By submitting your email address, you agree to receive emails regarding relevant topic offers from TechTarget and its partners. You can withdraw your consent at any time. Contact TechTarget at 275 Grove Street, Newton, MA.
You also agree that your personal information may be transferred and processed in the United States, and that you have read and agree to the Terms of Use and the Privacy Policy.

3

What can go wrong?

-
Ensuring your colo choice isn't wrong
So you've decided to use a colocation facility. How do you ensure that you won't have a negative experience? Not knowing how to choose the best colo provider can be detrimental to your data center operations. Guarantee that what can go wrong, won't go wrong.
4

You oughta know

-
Helpful definitions
Don't be confused by the language. Learn more about the colocation concepts with these definitions.