Evaluate
Weigh the pros and cons of technologies, products and projects you are considering.
X86-based private clouds offer cost savings
x86-based private clouds offer cost savings when compared to traditional mainframe systems.
Looking for something else?
TECHNOLOGIES
Costs come into play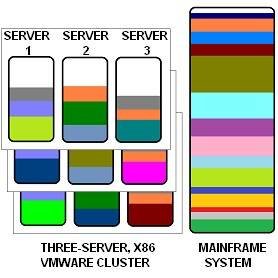 But why are users working to create x86-based private clouds using software-based virtualization? Aren't they reinventing the mainframe wheel with less powerful technology? IBM might say yes, but users have motivations -- the foremost being cost and the flexibility that comes with scaling out smaller commodity systems rather than building up one centralized supercomputer.
For example, as shown in the figure above, VMware Inc.'s "starter kit" software licensing for a three-server x86 cluster (left) with a total of six CPUs, licensed with vSphere's Enterprise Plus edition along with a support subscription, would start at around $32,000. The price for three commodity x86 servers is roughly $5,000 for a total starting cost of about $37,000.
While a fully configured IBM zEnterprise mainframe with 80 processors can support up to 10,000 workloads (by comparison, the maximum supported 32-host cluster under vSphere 4.1 can handle up to 3000 workloads), the starting price for the system comes in at just under $1 million.
Dig Deeper on IBM system z and mainframe systems
PRO+
Content
Find more PRO+ content and other member only offers, here.