Data storage and data center disaster recovery planning expert Jon Toigo takes aim at storage and software vendors in this video. He breaks down the facts and misapprehensions about disaster recovery and calls out C-level managers who still look at disaster recovery and data protection as a bolt-on instead of a build-in. Toigo outlines a commonsense, practical method for disaster recovery and business continuity planning and points to technology that actually works.
Part 1: Current data center disaster recovery plans are subpar
Nearly half of all organizations don't have a disaster recovery (DR) plan in place. What's more, less than 50% of the ones that do actually test their plans. The safety of your business depends not only on having a solid DR plan, but also knowing that your plan works. If your organization hasn't tested its DR plan, you're no better off than if you didn't have one at all.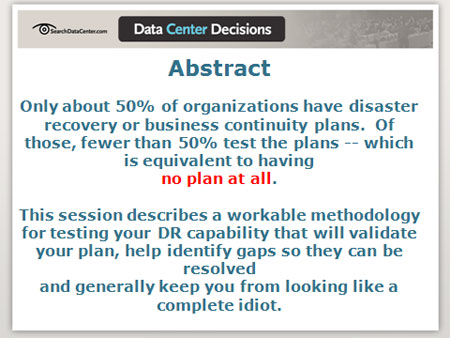 Part 2: Disaster recovery myths and misconceptions
There is a lot of hype surrounding disaster recovery, and C-level managers are eager to talk the talk. However, DR is more than just a project -- it's a significant investment of time, personnel and data. If your organization isn't willing to take the necessary steps, your data center will be susceptible to a variety of threats, including natural disasters and shoddy software.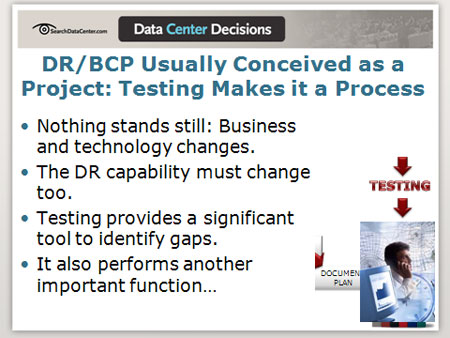 Part 3: Method for successful disaster recovery
Simply testing your DR plan is not enough -- it is critical to have clear objectives when implementing the test and to clearly document the process.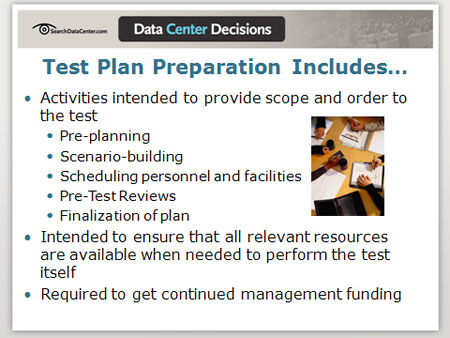 Part 4: Be wary of tech-based disaster recovery options
Though disaster recovery is about process and planning, there are technological advances that can help ease data center managers' planning woes. However, not all these new tools are created equal, and some require additional knowledge before they can make your life any easier.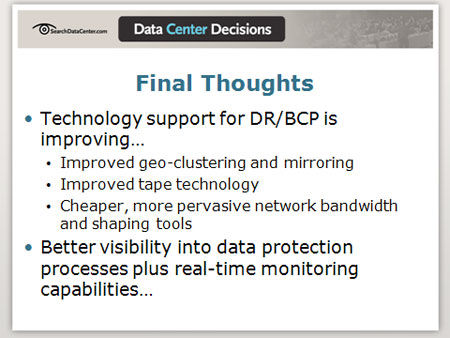 Part 5: Determining mission critical apps and other questions
Toigo takes audience questions about DR budgeting, mission critical-applications and services, best storage packages, and more.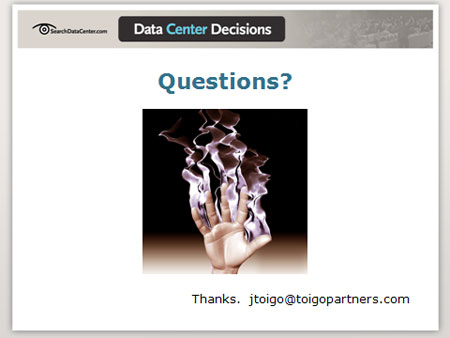 This was first published in February 2008