Flexible disaster recovery options emerge on 24/7 availability demand
New disaster recovery options are flexible and mobile, including mobile data centers and power delivery, managed DR services and cloud-based options.
Looking for something else?
As disaster recovery expectations change in a business climate that can't live without IT, disaster recovery options are also changing.
While regulated and public companies are accustomed to stringent business continuity planning, data center managers that hadn't thought much about disaster recovery (DR) now demand high availability.
A disaster recovery plan is a must in today's data centers, where end users have an expectation of 24/7 application availability, and IT is "pervasive in almost every business operation," said Michael de la Torre, VP of product management for SunGard Availability Services' recovery services group.
This uptick in business continuity requirements has also buoyed DR budgets.
"Disaster recovery budgets are a lot higher than they were three or four years ago," said Jason Yaeger, director of operations at Online Tech Inc., a colocation, managed services and cloud service provider based in Ann Arbor, Mich. Indeed, in TechTarget's Data Center and Readers' Choice 2013 survey, 23% of respondents listed redundancy and disaster recovery as a driver of server spending in 2013, the sixth most popular choice.
On-site DR evolution
In 2011 and 2012, the U.S. faced the most billion-dollar power outages on record, according to the Department of Energy. Metro-area data centers are susceptible to more power outages because of higher loads on the grid, said Bob Kenyon, EVP of Atlas Oil Co., a Midwestern fuel supplier with about 45 data center customers. More companies are building data centers in business centers to reduce latency.
Disaster preparedness and awareness are a key consideration in new data centers and retrofits/upgrades, said Kenyon.
"Data centers are installing larger back-up power units and some have added above- and below-ground fuel storage to supply generators during longer power outages," he said.
Kenyon has seen an uptick in data center customer demand for portable fuel tanks during disasters to avoid downtime.
Trucking in DR
Companies such as SunGard, Rentsys Recovery Services and others offer mobile disaster recovery units for data center operations and endpoints, with self-contained power and weather resistance to withstand natural disaster conditions.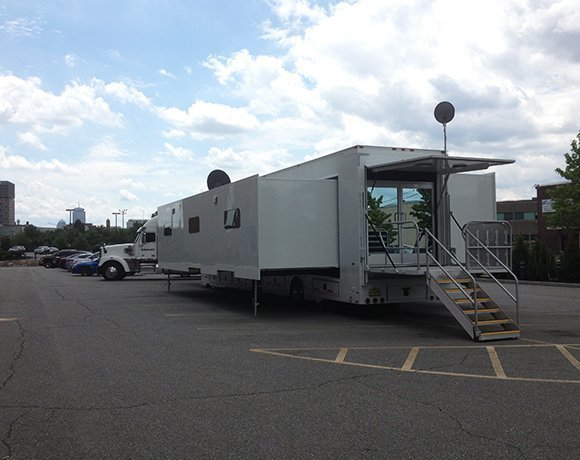 A SunGard Mobile Metro Center operates in Somerville, Mass., to demonstrate endpoint recovery.
"We have 20 mobile units in the U.S. already, and I've had to order four more," said Ron LaPedis, a workforce continuity strategist with SunGard, during a recent tour of one of the Mobile Metro Centers.
SunGard builds each unit into a tractor-trailer truck that can be dispatched in densely populated urban areas, including downtown Manhattan after Hurricane Sandy.
The endpoint recovery units, called Mobile Metro Centers, connect to a SunGard data center via satellite, or on-site to a mobile data center for users that cannot tolerate latency.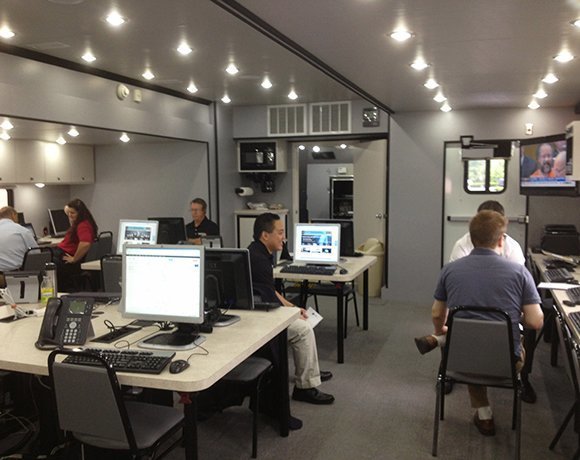 Inside the Mobile Metro Center, the desktops are connected to offsite or mobile data centers from SunGard.
Some of the company's mobile data centers, with 10 racks each, can be lined up side-by-side and opened into a contiguous data center. Users contract with SunGard to protect critical apps or whole operations.
"Customers need to support physical apps, mainframe operations, multiple virtual machines and cloud-hosted apps -- it's a heterogeneous environment in today's IT," said SungGard's de la Torre, adding that customer needs dictate disaster recovery options and the mobile units' specs, including storage capacity or redundancy.
Outsourced and cloud-based DR options
Some businesses choose to outsource disaster recovery to a managed service provider or cloud hosting company, because they cannot make the investment in location diversity for disaster preparedness, or some don't have IT staff or depth of experience in IT.
"Some companies find that outsourcing this element allows them to focus on improving operations without worrying about failures," said de la Torre.
Businesses with multiple data centers can bring in external DR expertise to turn these data centers into second-site recovery options, he noted. Along with tested disaster recovery procedures, uptime and service-level agreements, geographic diversity and redundant infrastructure, ensure that an outsource DR provider meets any regulations, such as HIPPA or PCI, that the business must follow, said Yaeger, whose company offers disaster recovery services.
Cloud-based backup and recovery increasingly attracts interest from IT teams in charge of disaster recovery planning.
"People would be open to purely cloud-based disaster recovery," Online Tech's Yaeger said, adding that it's an area for IT executives to look into today. Backing up files to cloud storage is a familiar concept. But standing up applications in a public cloud -- when disasters knock out part or all of the production IT operations -- faces a lot of barriers, he cautioned. An on-premises production environment is not structured to operate in the same way that a cloud-based environment is, and there can also be security or regulatory concerns for the data restored in a public cloud.
Holes in the safety net
This increased focus on disaster recovery is exposing data center operators' DR procedure and policy weaknesses and gaps in strategy. The biggest one has to be DR testing, said Yaeger. Online Tech offers DR testing on a recurring basis as part of its DR Now! cloud server recovery service.
Disaster recovery planning
"It's not over-utilized by clients," he said. "Most people do 'one and done' testing where they run a DR test when they first get everything set up, then forget about it. That's not a good practice."
He also sees gaps in network planning, ensuring that the data you've invested in protecting can actually move from production to DR, and that the DR checklist accounts for traffic volume, firewall configurations, DNS routing and related elements.
Because disaster recovery options are meant to be temporary, a lot of DR infrastructures don't have built-in redundancy or powerful hardware and fast network connections. How and how fast are you getting back to normal production? That procedure should be in your DR plan, Yaeger said.
Dig deeper on Data Center Disaster Recovery