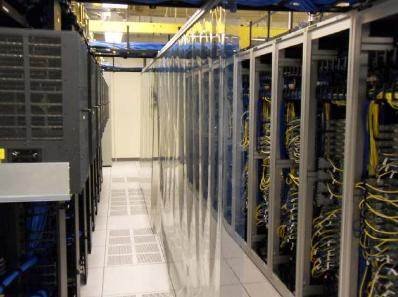 Make sure the design and layout of the data center is as efficient as possible. Tom Roberts, the data center facilities director at Trinity Health, installed hot/cold aisle containment and ultrasonic humidification units at its headquarters, a move that is saving them 14% in electric bills and gaining them 14% more capacity. Roberts is also using sensors around the data center and plans to use Aperture's data center facilities software to better monitor the facility's efficiency.
Other things data center managers can do is minimize bypass air by installing blanking panels on their server racks, look into the power savings of flywheel UPSes, and raise the temperature set point in the server room.
This photo is actually of eBay's hot/cold aisle containment design.
NEXT: Does your whole data center need the same level of redundancy?
PREVIOUS | 1 | 2 | 3 | 4 | 5 | 6 | NEXT
This was first published in April 2010