Administrators must wring every dollar of performance and efficiency from their virtual computing resources. The Data Center Servers and Storage E-book covers the selection criteria for virtual server selection, important monitoring and management guidelines to keep virtual servers running smoothly, interesting insights into virtual storage selection and provisioning, and valuable strategies to reallocate older hardware within virtual data centers.
About the writer: Greg Shields, a Microsoft MVP and VMware vExpert, is an independent author, speaker and IT consultant, as well as a founding partner at Concentrated Technology. With nearly 15 years in information technology, he has developed extensive experience in systems administration, engineering and architecture specializing in Microsoft OS, remote application and virtualization technologies.
For more in-depth news and advice on next-generation data centers, check out SearchDataCenter.com's comprehensive resource collection on virtualized data centers.
---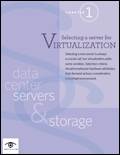 Chapter 1: Selecting a Server for Virtualization
For all its benefits, virtualization can complicate the server selection process. This first chapter outlines the essential selection criteria with special emphasis on hardware characteristics that demand serious consideration in a virtual environment.

Download Chapter 1


This was first published in October 2010